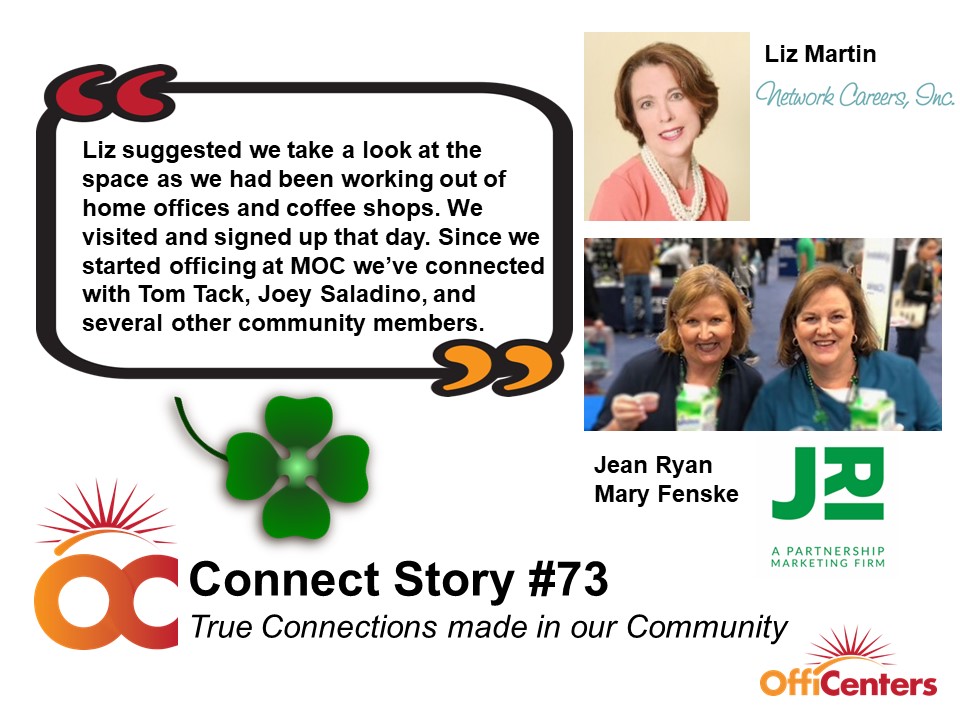 Jean Ryan started JRI Marketing in 1998 after a career with Dayton's. Over the years Jean worked for a variety of clients to develop key partnerships on their behalf. These partnerships could be for community involvement purposes or for sales development purposes. Mary Fenske joined Jean in 2013 and together they continue to work for corporate clients as well as event clients to find and develop key marketing partnerships. Their clients include Prime Therapeutics, RBC Wealth Management, the Basilica Block Party, the Wordplay book festival and the Twin Cities Jazz Festival.
Liz Martin, owner of Network Careers, suggested Jean and Mary take a look at OffiCenters after meeting one of her clients at our Minnetonka space. Liz knew they had been working out of home offices and coffee shops. One day, 18 months ago, Jean and May visited Minnetonka OffiCenter and signed up the same day. Since they started officing at MOC they've connected with Tom Tack, Joey Saladino, and several other members
Jean and Mary say, "OffiCenters has given us focus and a great place to meet with our clients. We also really like the community feel of the office. It feels like we have a chance to get caught up with co-workers and stay connected to a broader community."
When asked how members can CONNECT with them Jean and Mary replied, "Ask us about our events or any events around the Twin Cities. We pretty much know the landscape. We can and will offer opinions! If your company needs exposure on a larger scale or is looking to put a plan in place to manage community engagement, connect with JRI Partnership Marketing.