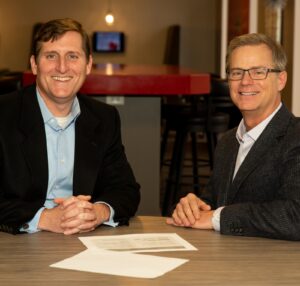 Russ Zilles, CEO of Eclipse Business Advisors and Sean Sego, President of Sego Services, both joined the OffiCenters community last year after we opened in Woodbury. After several months of working in proximity, they quickly realized synergies in formalizing a working relationship and began to realize a dream of starting the first of its kind "One Stop Shop" private equity solutions process through The RAS Group. Below they share why they chose OffiCenters and the role it played in creating their new business.
Russ: After taking a company from working out of an old carpet store to a nationally recognized IT company, I elected to sell my company. Why? Because I was ready for a new challenge. I was ready to apply what I had learned as an IT Executive to a new venture focused on connecting with other business owners, and, helping them take their businesses to the next level. To do so, I looked for an environment that encouraged co-working and collaboration among the tenants. When touring OffiCenters, it just felt like it was the right place, a place that stood out from the crowd. The positive energy and networking functions were well thought out and right up my alley.
Sean: As a consultant for over 20 years, I had quite the list of who's-who from Dunkel, Sanku, Chasen, and Tesla, to, Panasonic, and BP. I worked with executives; providing safety solutions, operational, financial, and capital structure consulting services. Yet, I am an entrepreneur at heart and excel at providing unique custom solutions, and wanted more. This Spring, I recognized I was holding myself back from success by allowing distractions to impact my mind-set of focus and purpose. Through OffiCenters I was able to reconnect with several new tenants immediately, one being Russ Zilles. Russ and I are excited to use our respective backgrounds to assist others to take the next step in business success.
Being connected with OffiCenters has opened opportunities to re-connect with entrepreneurs and business owners for both of us. With over 1,200 businesses as part of OffiCenters, we have been able to empower others to succeed and gain new clients along the way.
We can be contacted at Info@TheRASGRP.com or if you stop by the Woodbury OffiCenter location.