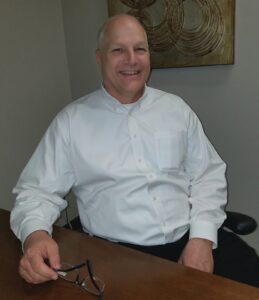 Thomas Ashbaugh, President of Ashbaugh Financial, helps businesses increase profits by developing a method to recoup their expenses. Thomas has been working with business owners for over 30 years helping them to higher profits and protecting their wealth. Below, he shares how OffiCenters supports him personally and professionally. 
My business is to help people lower their taxes and simplify their time planning for it. We do not prepare taxes, we work to restructure your business to organize your entities to benefit you. No grey areas or aggressive fad techniques, rather we run to the tax code. We also work to lower business expenses. I've known about OffiCenters for years as my CPA has had an office with them for 20 years. Lisa Olsonoski and I have been talking since 2014 and I finally joined September of 2017. What a missed opportunity; I should have joined long ago! Being a "one-person office", it is important for me to connect and collaborate with people. I've enjoyed the new connections and various networking events that OffiCenters provides. My advice to new members would be to get involved and participate in as many functions as possible. More than likely one will fulfill a function that will also help you personally and professionally. 
Connect with Tom at tlashbaugh@gmail.com and/or 952-201-5433.