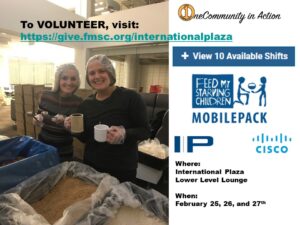 Feed My Starving Children MOBILEPACK will be at International Plaza, February 25, 26, 27.
By volunteering or donating, your generosity makes a huge difference in the lives of thousands of children in need around the world. At least 6,200 children die each day from hunger-related causes.
How To VOLUNTEER:
 Go to the 
website
 and click on the VOLUNTEER button. It will take you to the building's MobilePack Event, click +VIEW 10 AVAILABLE SHIFTS to see the shifts available.
How to DONATE:
 Click the VOLUNTEER button and there will be a 
LINK TO DONATE
 .