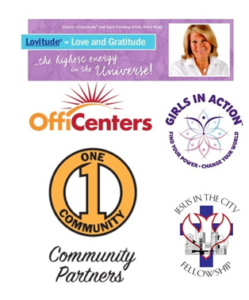 Lori saw a recent Facebook post from one of our members, Anne Pryor. Anne shared that she keeps "Lovitude" kits in her car to give to any person in need. Anne has a company that combines her love of art and painting with LOVE and GRATITUDE. We became inspired! Anne and Lori hatched a scheme to try and make 300 kits and distribute them to the homeless community in Minneapolis. OneCommunity members Michael Pilla with Jesus in the City Ministries and Dr. Verna Price with Girls in Action asked to help, too.  Together, we are taking the challenge! 
AND NOW WE NEED YOUR HELP/DONATIONS:
WOOL socks for Men and Women
Soft Chew Power Bars
Skittles (homeless favorite candy)
Tooth brushes
Travel size toothpaste, shampoo, lotion, soap or hand sanitizer
Wash cloths or Wet wipes
Large Zip Lock bags
OffiCenters will provide the space to assemble the items. Anne will add a lovitude card for a message. Michael will help us with distribution and YOU can help with donations, packing, distributing or moral support. 
We are targeting October over MEA weekend (October 18-21) as the Girls in Action team members will be out of school to help us pack. Can you help us meet this challenge? Our goal is 300 Lovitude Kits. I think we can do MORE! Will you Help US make a difference? 
Bring supplies to any OffiCenters location by October 15 and Help Us Make a Warm Difference.