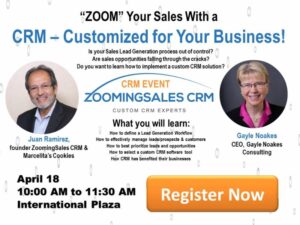 Is your Sales Lead Generation process out of control? Are sales opportunities falling through the cracks? Do you want to learn how to implement a custom CRM solution? If you answered YES to any of these questions, this workshop is for you! Learn how to define a Lead Generation Workflow, effectively manage leads/prospects/customers, prioritize leads and opportunities and select a custom CRM software tool.
Juan Ramirez, founder of ZoomingSales CRM and Gayle Noakes, CEO of Gayle Noakes Consulting, will share how they help solopreneurs, small and medium sized businesses stop leaving money on the table by implementing a customized CRM system to manage their selling process from leads to closing. Learn more at 
www.zoomingsalesCRM.com
 or Register 
HERE
.