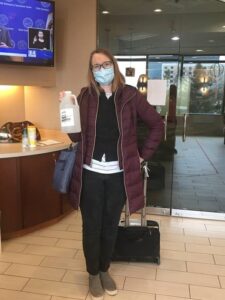 We are in this TOGETHER. Thank you to our members for reaching out and staying connected with us! Here is what some of the members of our community are sharing with us during this pandemic:
"I got hand sanitizer from one of my suppliers and want to share it with our community!" Andrea, Beraca International
"I feel I am safe here. Good change of "space." I had to get out to "Social Distance" from my refrigerator!" John Crudele
"It's so nice to see familiar faces during this surreal time. Being on calls has helped me feel more comfortable to connect to people. I need community now more than ever and OffiCenters rocks!" Cathy Paper, RockPaperStar
"I'm finding it takes me twice as long to do work at home rather than in my office. And, making my own coffee is way more work than just walking to the kitchenette for a refill." Patrick Evans, Evans Legal
"I'm getting my networking fix while Zoomin' and Groovin' with OffiCenters virtual events...thanks for being essential!" Kirk Szesny, Keech Media
"Taking part in the book club where we get to discuss with the author his perspective and why he wrote the book Bucket Heads has been a real treat! Very appreciative of OffiCenters responding and creating activities to keep everyone connected!" Eva Andrews, QC Training Services, Inc.
"Thank you to the amazing staff at OffiCenters. You have helped me to keep my business going with great networking and webinar events and sending me my mail. Also, a big shout-out to the many entrepreneurs at OffiCenters who are helping to keep our connections alive. I'm grateful for our partnership." Judy Zimmer, Coachology.us
"Thank you for your help in serving as witnesses to my clients' wills and for admitting all of us into the International Plaza building. I imagine that your roles must be particularly stressful these days and as an OffiCenters customer, your hard work is not unnoticed." Kathryn Wells, Wells Law PLLC
"Was great partnering with you guys on our Zoom call to help small businesses, Skol!" Ben Theis, Skol Marketing
"Thank You once again for the Scottie Miller shows! These have been great uplifters I appreciate OffiCenters for sharing!" Sandi Thompson
"OffiCenters, you continue to go above and beyond to support us small businesses during these challenging times. Thank you for all of the virtual networking, events and interactions you do to help keep us be engaged and stay focused on moving our business forward." Amy Lokken, Mud Modular
"Thank you for helping me get my Zoom account set-up. You are the best!" Cal Kuhlman 
"Thank you for all the extra support and hard work during this time. I appreciate it!" Scott Lewis, Scott Lewis Law Firm