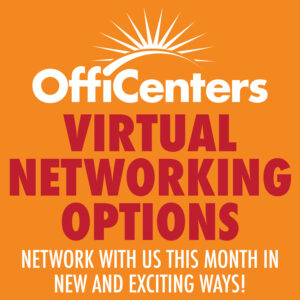 As we are all practicing physical distancing, there has never been a more important time to stay social! OffiCenters has teamed up with some of our AWESOME members to bring our community a calendar of virtual events to help keep you connected! See our full calendar HERE!
See our five events you can attend the next two weeks while home, but not alone! 
1 - On April 1st, Judy Zimmer is offering a ZOOM training from 1-2PM to help you maximize this powerful tool so that you can continue to grow your business. MORE
2 - Cathy Paper leads Networking in Place on April 2 from 9-10AM, sharing how to grow your network and network on and off the screen. MORE
3 - Learn why Digital Marketing is More Important to your Business than Ever with Ben Theis on April 7 from 11AM-12PM. MORE
4 - Our Treat to You! Scottie Miller performs Blues for Breakfast on April 8 from 10-11AM. Join us on Facebook live and enjoy the show! MORE 
5 - The OffiCenters community has been invited to join a great workshop provided by AGC, How to Create Self-Made Results on April 9, 5-6PM! MORE
Have an event idea you would like to share with our community? We would love to hear from you!