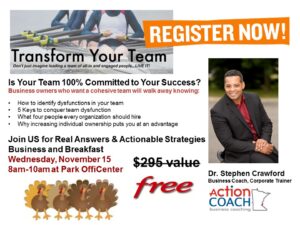 Don't just imagine leading a team of all-in and engaged people, LIVE IT!
Because teams are made up of fallible, imperfect human beings, the dynamics of any team can be deep & wide. Regardless, if you can get every person in your organization rowing together, you can conquer any industry, in any market, against any competition, in any economic situation.
Register Now to join Dr. Stephen Crawford on November 15 and walk away knowing:
• How to identify dysfunctions in your team.
• 5 Keys to conquer team dysfunction.
• What four people every organization should hire.
• Why increasing individual ownership puts you at an advantage.