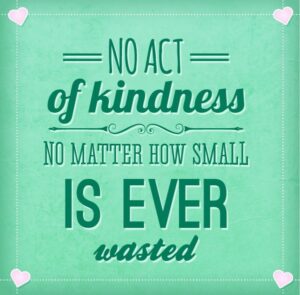 No matter how big or small, random acts of kindness lift the spirits of everyone they effect and create a positive ripple in our community. Together we can make our world a better place for all of us. Last year, after winning an OffiCenters survey contest, Michelle Stimpson of LifeShine was eager to pay it forward. She shared with us how the $100 prize blessed others and we had to share! Our community is AWESOME! 
November 2018 ($20)   A man in the grocery store check-out line, the day before Thanksgiving. He was buying pie, whipped cream and other holiday things and I asked if I could take care of his bill. He was thrilled.
December 2018  The man in front of me in line at lunch was dressed in a military uniform, and I asked if I could buy his lunch. He wouldn't let me, but he felt the love!
February 2019 ($10)  It was so fun to buy lunch for an Eden Prairie Police Officer and tell him how much I appreciated him keeping our community safe!
April 2019 ($20)  It was a thrill to have two firefighters next to me in line at the deli! They were delighted to have their lunch paid for and seemed to enjoy my appreciation for them and their work.
August 2019 ($20)  I loved being able to give the sweet neighbor girls a big bill at their lemonade stand!
September ($10) This funded coffee-time with a dear friend in celebration of a brand new year, after she survived a brutal journey with cancer.
November 2019 ($20)  It felt so good to leave an extra big tip for awesome server at a restaurant!