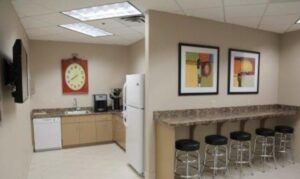 The coronavirus has forced us to make some changes in our kitchen and food and beverage policies.
Effective immediately, all of our coffee and beverages will be with the single serve dispensers only. Too many hands touch the airpots and therefore, we will be storing them until we can safely dispense coffee from the multi-user containers. Donut Days are postponed as we do not want anyone serving from a community plate. We will do our best to find individually wrapped bars for people who want a snack on Wednesdays.
The community silverware and plates will be locked and given to those who will use with diligence and put their utensils and things into the dishwasher. Careful washing of hands to follow dishwasher use. There will be disposable plates and silverware provided as soon as we can get the products. The community refrigerator may not be used to stock frozen foods, condiments or anything held long term. Each Friday the refrigerator will be emptied COMPLETELY. We will throw everything left in the refrigerator including your storage containers, lunch boxes, etc. We will continue to clean all kitchen touch points and sterilize coffee mugs at least twice a day. 
Anyone ordering food should come to the front and pick up your items. We will not touch or transfer any food to you in order to maintain a physical distance.
Thanks in advance for your help and understanding during this incredibly challenging time.