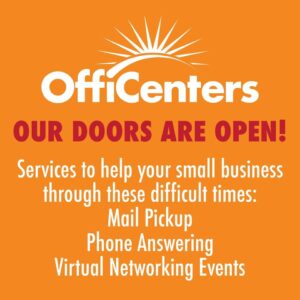 Thanks so much for your business and know that we take our responsibility of being an essential business very seriously. We are considered essential in several categories, but mainly because of our telecommunications and mail responsibilities. Many of our members are considered essential businesses, as well. As a small business Owner, I also take responsibility of protecting my team during this crisis. In light of the recent events and Minnesota Governor Walz sheltering in place announcement yesterday, we are taking the following precautions:
Our workspaces will be on reduced hours starting Monday, March 30 and will last for the two weeks recommended by the state of Minnesota. Staff will be present from 9AM to 3PM daily. (This may vary) This allows our staff to work a shortened day and still be paid for full time and gives them time to rest and take care of themselves as well.
Members only will be allowed to come into the workspaces. We will not accept day passes or pay-per-day people to work. People with full time offices and elite coworking packages will have their 24-hour access as per usual.
We have put a chat bubble on the front of our website so that anyone can ask questions or schedule work during the time we have OffiCenter team members on-site.
We will still receive mail, packages and deliveries. Members will be alerted by phone, email or text when this happens.
We are very pleased to see that our community takes this very seriously and the traffic in the coworking spaces has reduced dramatically. We are taking every precaution including physical distancing and cleaning the major touchpoints in the workspace.
Any tours of office space will be done virtually as much as possible and the OffiCenters team will not be going from location to location.
We encourage CoWorkers to use time to their home location for the next two weeks.
Finally, we are continuing business as usual except for the fact we are missing our community. We are working to put some distance learning and networking events in place. Let's utilize our technology and try to keep calm and carry on during this time. Please, even though many members are sheltered, do not stop working on your business! We will get through this together. Let's be Small Business Strong.