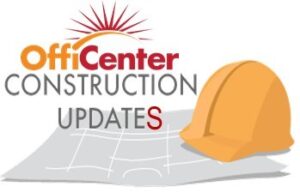 Don't look now! Or do! Park OffiCenter is wrapping up paint and carpet this week and is just waiting on a couple of finishing touches. The training room update includes new furniture and white boards that we think turned out awesome! Our podcast room, that will be ready to use after March 15, adds another workspace amenity to your membership. We added two micro offices for anyone that is looking for an affordable furnished full-time office in St. Louis Park. The wine fridge in the updated kitchen and new furniture in the coworking space is just the cherry on top! Join us on April 4 for a special Park Networking event and our official reveal!
We're full steam ahead at Edina OffiCenter, too. This project, which will be completed by the end of the month, features a 60 seat coworking space with booths, multiple collaborative seating options and some of our favorite office amenities. We have some beautiful full-time office spaces available! Join us on April 10 for a special Donut Day Extravaganza where we will show off our new space with treats and a champagne toast!
While we're at it, here are some changes at Woodbury! The new training room furniture was delivered last week and will accommodate even larger groups. Make sure to check it out. We also recently moved our corporate office to this location. Stop in and say hi!