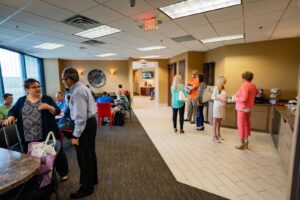 A few years back we stumbled upon an international holiday celebrated annually on August 9, International CoWorking Day, a day to celebrate coworking, collaborating and being part of a (Work Awesome) community. The origins of this holiday dates back to August 9, 2005 when software engineer Brad Neuberg blogged, "This is the first week of coworking, something that I am setting up." In his blog post he invited "free Spirits" and creators to "come together in community, sitting at tables or relaxing on couches as we do our work". He went on to say, "Even though each of us is doing separate work, perhaps programming or writing a novel, we can feel each other's presence, run ideas by the community, or take breaks at the water cooler."
The only problem with International Coworking Day was that we couldn't figure out to celebrate all of the "awesomeness" associated with working in a shared office space on just one day. So last year we expanded coworking day to the entire month of August where we celebrate how you choose to Work Awesome as part of our collaborative community.
This year, CoWorking Month is bigger and better than ever! Not only are we offering our monthly Park Connections Networking Group and PowerLunch, but we have added additional workshops geared at helping you grow your business. We have YAPPY and Happy Hours, opportunities for you to update your professional headshot and the ability to bring-a-friend to work FREE on Fridays in August. Plus, if they sign an agreement one of the four Mondays in August, they will get their second month FREE and you'll get a double referral bonus. All of this and so much more! See you in the spaces!