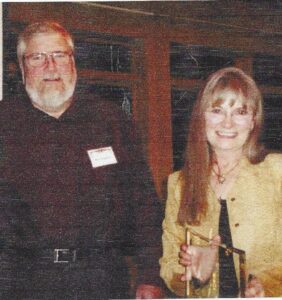 Ken Singleton & Linda Moss, of Singleton & Moss Custom Goldsmiths, specialize in creating one-of-a-kind jewelry, much of which is inspired by the wildlife of Africa and North America. Linda Moss, Designer, and Ken Singleton, Goldsmith, work in 14k gold, 18k gold and platinum, and use only the finest quality of gemstones and other materials to turn each piece they make into a masterpiece. Keep reading for more!
Every business has a story, tell us yours.
Our story goes back 40 years! We worked together as a designer and a custom jeweler at EJ Wallman Custom Jewelers in Minneapolis…in the Physicians and Surgeons Building which is now Target! At this jewelry store, the skills that are of a bygone era were used exclusively…painting custom designs and then creating the pieces by hand, and everything was in-house. The EJ Wallman Jewelers closed in 1989 and Ken and Linda looked for another place of employment. Finding that nothing really compared to EJ Wallman, they decided to open their own business, continuing the legacy of fine custom design and custom goldsmiths. Singleton & Moss opened for business in 1989 and are still going strong.
You were chosen as this month's Innovator Member. What does being an Innovator mean to you?
Singleton & Moss try to link an age-old, classic way of creating with new technology and with this develop heirloom pieces to last a lifetime.
No one likes to brag about their business, but if you HAD TO . . .
Singleton & Moss have skills that no other jewelry store has. Ken and Linda have a well-developed sculptural base on which to create one-of-a-kind pieces and they do everything the old-fashioned way – by hand!
We learn from our mistakes, especially in business. Give us some words of wisdom.
Be honest and true to your basic thoughts on giving your customer the best of what you can offer.
What "teacher" has made the most impact on your life and why?
Linda: Chunghi Choo, my professor from the University of Iowa where I did my graduate work and was a Teaching Assistant for the Metalsmithing Department.
Ken: Mr. Grobe who was a great teacher and wanted to pass on his knowledge to the next generation of Goldsmiths, showing the finer details in the process of making original pieces of art and passing on secrets he acquired over the 40 years of experience he had in the jewelry industry.
What might someone be surprised to know about you?
What is surprising about Singleton & Moss is the fact that Ken and Linda have been business partners for going on 30 years and, yes, they have disagreements but when that happens they sit at a table and work it out!
If you could have only one super power, what would it be and why?
We all wish our super power is more energy to keep going!
What's the most interesting thing you've read or seen this week?
Linda: Watching on PBS the process of transplanting organs from patients to donors! It is amazing…
Ken: My trip with my wife to see the Grand Canyon.
The most WORK AWESOME at OffiCenters?
So many great aspects from the staff to the surrounding offices. The staff are there to make life easy for everyone and we are amazed and wouldn't have our business anywhere else.
In addition to our Member Directory, how else can people CONNECT with you?
Singleton & Moss have a great website which is singletonmoss.com or Facebook!