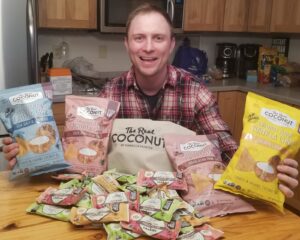 Mike McKeon, Chief Operating Officer at The Real Coconut, offers recipes, products and restaurants that are dedicated to digestive well-being. The Real Coconut produces super clean gluten, grain, dairy and refined sugar free snacks at an affordable price to you. Keep reading to learn more!
Every business has a story, tell us yours.
The Real Coconut product line is inspired by a restaurant of the same name started by Daniella Hunter and her husband, Charlie, on the beaches of Tulum, Mexico in 2014. All of the products are grain & gluten-free with no dairy or refined sugars. By utilizing alternative grain-free flours, The Real Coconut offers delicious and healthier options to traditional favorites including tortillas and tortilla chips made from organic coconut flour and cookies made from plantain flour. I started working with Daniella and Charlie in 2016 to commercialize the initial products and have been running the company ever since.
You were chosen as this month's Innovator Member. What does being an Innovator mean to you?
In our business, being an innovator means identifying and developing products that meet unmet needs in the marketplace. In the case of tortillas, tortilla chips and cookies, there didn't exist very good options for people who were eating a grain-free diet. We met that need by utilizing alternative flours made from coconut and plantain.
No one likes to brag about their business, but if you HAD TO . . .
The first products from The Real Coconut launched in limited markets in January 2017. We are now in national distribution in over 1,500 store locations around the country. Our total revenue growth in 2018 is expected to be over 400% compared to the previous year.
We learn from our mistakes, especially in business. Give us some words of wisdom.
Focus is key. We came out of the gate with lots of product ideas and a very wide vision for the brand and product line. We subsequently narrowed that vision and concentrated our energies on making our initial products successful.
What "teacher" has made the most impact on your life and why?
My former business partner, Mike Schall, has been the most important teacher and mentor in my career. We worked on a project for Whole Foods for over five years together and he taught me many valuable lessons, not only about business, but also about communication and how to be a good person.
What might someone be surprised to know about you?
I'm an anthem singer.
If you could have only one super power, what would it be and why?
Teleportation so I didn't have to spend so much time in airports and on planes!
What's the most interesting thing you've read or seen this week?
A new study showing that people who eat a mostly organic diet are 25% less likely to get certain types of cancer.
Why do you choose to WORK AWESOME at OffiCenters?
OffiCenters provides flexibility for us as we grow. We have all the amenities of a larger office without having to worry about providing them ourselves. We only have two people working in the Twin Cities right now, so having a place to go and a little community has been fantastic for morale.
In addition to our Member Directory, how else can people CONNECT with you?
Feel free to shoot me an email: mikem@therealcoconut.com