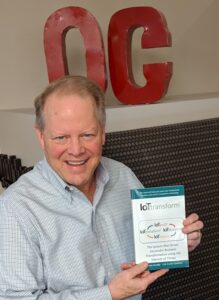 Steve Grady, Managing Partner at Target Outcome, helps Tech, Software and Manufacturing Companies dramatically increase revenues by using their proven 3-step framework to find new customers quickly, expand current customers and accelerate profitable revenue. They focus on forming relationships, telling your story and showing your value. Learn more below! 
Every business has a story, tell us yours.
We help Tech, Software, and Manufacturing companies dramatically increase revenues by using our proven 3-step Marketing framework that Finds New Customers Quickly, Expands Current Customers, and Accelerates Profitable Revenue. We love enabling small to medium Minnesota Tech businesses to grow.
You were chosen as this month's Success Member. Tell us about a recent Success.
A recent success was publishing my book that I largely wrote at the Minnetonka OffiCenter titled: IoTtransform – The System that Drives Successful Business Transformation Using the Internet of Things.
No one likes to brag about their business, but if you HAD TO . . .
We are great at teaching companies how to make their customers the Hero and describe how they are the ideal Guide. Most company websites talk about why they are great. We flip the story upside down and show how they make their Customers great.
We learn from our mistakes, especially in business. Give us some words of wisdom.
Success results from the disciplined use of an optimized process to achieve a well-defined Target Outcome. When I have encountered setbacks, it was because I deviated from this approach.
What "teacher" has made the most impact on your life and why?
It was my thesis advisor in college who told me: "Always be curious and constantly learning 24/7"
What might someone be surprised to know about you?
I am an avid barbershop singer with the Minneapolis Commodores.
If you could have only one super power, what would it be and why?
Solve every person's single most critical challenge.
What's the most interesting thing you've read or seen this week?
The applications of Artificial Intelligence in Sales and Marketing that truly emulate human responses.
Why do you choose to WORK AWESOME at OffiCenters?
The working environment is great, networking is plentiful, and having multiple locations make it easy to meet with clients all over Minneapolis.
In addition to our Member Directory, how else can people CONNECT with you?
Email – steve.grady@targetoutcome.com or LinkedIn https://www.linkedin.com/in/stevegrady/