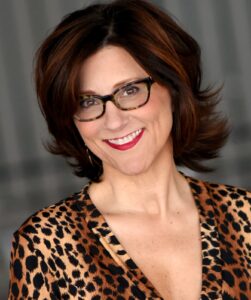 Maria Johnson, Founder of Speaking Mastery, helps savvy business owners, experts and leaders move to the next level by speaking with impact. For over 20 years she presented, coached, and trained leaders to higher performance in Fortune 500 corporations and now helps business professionals to communicate, influence, and connect with others through authentic, powerful speaking. Learn more about Maria below!
Every business has a story, tell us yours.
My background is 28 years of corporate training and leadership development in big ol' Fortune 500 companies. I was also a music/psychology major and have been a singer and musician (alto saxophone, piano) for most of my life. Business and music were a perfect learning combination. In 2012, I was fortunate enough to be 'downsized' with my department and decided it was time to hang my own shingle. Speaking Mastery was born. It was a humbling, painstaking learning curve with ups and downs along the way (extremely different from corporate), but I was blessed with great mentors and coaches along the way. With persistence I learned how to get out and speak and successfully build a business. I now help other experts and leaders show up at their highest level and speak with impact, so they can catapult their business or career to the next level.
You were chosen as this month's Success Member. Tell us about a recent Success.
I published an international bestselling book called, The World's Greatest Speakers: Insider Secrets on How to Engage and Move Your Audience to Action. It is a compilation of interviews, rich stories, and powerful insights from top speakers around the world. My most surprising interview was with Suze Orman, who was remarkably grateful and inspiring. The book is a tremendous resource for anyone interested in speaking to grow their business.
No one likes to brag about their business, but if you HAD TO . . .
My clients experience breakthroughs with their business and speaking, but all that positive change usually permeates other areas of their lives.
We learn from our mistakes, especially in business. Give us some words of wisdom.
Build some expertise in your space through reading, training, or working with a coach. But…then you need to step aside from all the training and just leap. Few people ever feel 100% ready, and I was no exception after I left corporate to become an entrepreneur. I needed to be out speaking for my business, but instead I kept taking every training program that showed up. They always seemed like just the perfect thing that would get me to the next level! Look, the only way to get good at something is to actually do it. Only then can you course correct.
What "teacher" has made the most impact on your life and why?
Working with Brian Tracy was amazing. He's an incredibly humble, kind, and powerful individual. He reminded me how much it takes plain hard work to become successful.
What might someone be surprised to know about you?
I've lived in Wisconsin and Minnesota my entire life and had never gone skiing until last year. I'm pretty coordinated and thought it would be no sweat to pick up. I could barely stand and move forward. Trying to get on the big escalator was like "Elf" on the escalator in the movie.
If you could have only one super power, what would it be and why?
I think it would be cool if, every time I ate deep dish pizza, it became a super food that made me super healthy. Who's with me?
What's the most interesting thing you've read or seen this week?
The movie "Wonder" with Julia Roberts and Owen Wilson.
Why do you choose to WORK AWESOME at OffiCenters?
Along with being a perfect office space, there is a strong, welcoming community of experts who support one another. I love the networking events, and the open working space has a great energy . . . I usually run into someone I know there.
In addition to our Member Directory, how else can people CONNECT with you?
Call/text 952-500-2790 and get a free Speaking Assessment Visit my website www.MariaLynnJohnson.com Join my facebook group at www.facebook.com/SpeakingMastery Email Maria@MariaLynnJohnson.com.
For those who want to get out speaking, there is a free gift for you at: www.marialynnjohnson.com/bonus