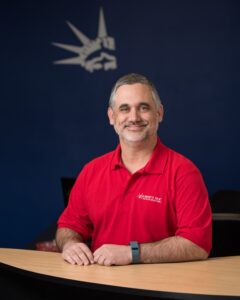 Whitney Eigenfeld, Franchise Owner at Liberty Tax Service, is committed to exceeding his customers' expectations every day. When Liberty Tax prepares your taxes, you're choosing to work with dedicated tax professionals who'll help get you every deduction you're entitled to. Or as they like to say, "You do life. We do taxes." Learn more below! 
Every business has a story, tell us yours.
For 25 years I was the Controller and Assistant Controller for a couple of local businesses. Over time, my role migrated to more and more IT related duties. A few years after I had switched to a different role in IT, I suddenly found myself unemployed when the entire IT department was suddenly outsourced. I decided to move back to the accounting side of things, but wanted to do it as the owner of a company. I came across Liberty Tax while searching around, and decided to give taxes a try. I have been doing taxes for the past five years now, and love to get to know the stories behind the paperwork.
You were chosen as this month's Success Member. Tell us about a recent Success.
Not a normal situation, but I was able to save a client $10,000 on their taxes by having them put $2,500 into an IRA. They not only saved the $10,000, but the $2,500 they put into the IRA is theirs to keep as well. I wish I could magically come up with solutions like this for all clients, but it feels good when you do.
No one likes to brag about their business, but if you HAD TO . . .
While nobody likes paying taxes, it is always nice to see how relieved people are to get their tax returns finished. It's like taking a final, and you feel like you are never truly ready for it. Once it is done you have a feeling of relief.
We learn from our mistakes, especially in business. Give us some words of wisdom.
If you make a mistake, do not run from it. Everybody makes mistakes, and if we just admit our mistakes we can fix them, and then try to avoid making the same mistake again.
What "teacher" has made the most impact on your life and why?
I am constantly learning life lessons from many different people, some who never even realizing they are "teaching" you anything. One example I learned early on in college has impacted my life as a parent. The roommate I was assigned for my freshman year was attending college as a National Merit Scholar, and was basically attending college on a full scholarship. As smart as he was, I quickly found out that his parents had controlled his time management while he lived at home. The freedom of being on his own was too much, and he ended up staying up all night, and sleeping during the day. He flunked out after one semester. I knew at that point, that when I had kids, that they needed to learn how to be responsible for their commitments, and to learn the consequences of not meeting these commitments. While still being there to support and guide them, the leash needed to be long enough to give them room to explore and be themselves.
What might someone be surprised to know about you?
Right out of high school I spent the summer on a six week canoe trip just south of the Arctic Circle. It was a late spring that year, and we had lakes that we were trying to canoe across that still had over a foot of ice on them. Fishing in lakes that no one visits was fantastic. After reeling in a fish with every other cast, it makes fishing in Minnesota hard to do.
If you could have only one super power, what would it be and why?
If I could have a super power, I would like the ability to be in more than one place at a time. It seems like there is always something else that needs to be done, and it would be great if I were able to be doing multiple things at the same time.
What's the most interesting thing you've read or seen this week?
While at the Mall of America this week I learned an interesting fact. While I had known that the red chair on the wall above the flume ride was where Twins legend Harmon Killebrew hit the longest home run ever at the Metropolitan Stadium. What I didn't previously know, is that after that home run, the seats that were hit were never sold again.
Why do you choose to WORK AWESOME at OffiCenters?
I have chosen to WORK AWESOME at OffiCenters because of the great staff and flexibility of space. My prior location was good, but I had more space than I needed. Having Carly and Sue at the front desk to greet my customers as they arrive has been wonderful. It adds an extra touch of class that I was not able to provide before.
In addition to our Member Directory, how else can people CONNECT with you?
email: weig@libertytax.com
phone: 651-210-5489