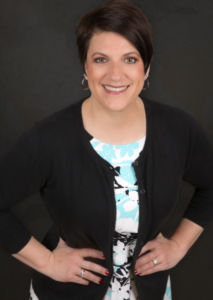 Lisa Hayes, of Through-The-Hayes, is an accomplished facilitator and leadership coach working with individuals to reach their goals. Lisa provides coaching and onsite workshops focused on professional development topics, working collectively towards team goals, executive presence, personal branding, leadership, communication skills, managing emotions and more. Continue reading to learn more!
Every business has a story, tell us yours.
(get ready, I'm giving you the full marketing story . . . just so you have the background!) After an almost 10-year career at Target Corporation, I made the decision to leave the company to create a bit more of a work-life balance. I had a long commute and a young family. I also realized I wasn't as challenged as I used to be in the organization.
There was one moment that finally put everything into perspective for me.  I had already decided to leave Target and one of my coworkers asked me why I wanted to leave. I remember telling her that it all came down to one thing: When it was my turn to leave this earth, Target would not be in the first five rows at my funeral.  The people who would be most impacted by my life would be in those front rows. If I continued to give Target everything I had, there would be nothing left for me to give to others. Why wouldn't I give my time and energy to the people who would be in the first five rows?
I moved on to work at Best Buy. I felt really drawn to their high-energy culture and environment. Unfortunately, in this new position I was working as an individual contributor with no hope for more team-oriented opportunities. I volunteered as a workshop facilitator and a coach for Best Buy employees. I taught workshops to groups about improving the dynamics of their team. As a career coach, I had office hours where I coached individuals on preparing for new roles, understanding their strengths, etc. I loved that I was able to use my strengths to help others and that Best Buy let me do this! I used to joke with the Director of Career Services that we should take our "show on the road", but I was too scared to take such a big leap.
As consumers changed their habits about how and where they were purchasing electronics, Best Buy had to make tough decisions in order to remain open. In 2011, I found myself laid off along with a handful of others on my team.
I remember it all clearly. I was let go on a Tuesday. Wednesday night my son, who had been sick for over a week, came down with appendicitis when he was only 8 years old. We had to be transferred to a hospital in the city in the middle of the night. After we arrived at the hospital, I tiredly followed the nurse to the floor where he would stay until surgery and throughout his recovery. She mentioned we were on a BMT floor. I looked at her funny, as I had been awake for almost 24 hours, and she explained that it was the Bone Marrow Transplant floor. Each one of the kids in these rooms had cancer. My heart broke. My son was the only one who didn't have cancer. It was a surreal moment, but it brought me right back to remembering what is important, like my family. You never know when life will throw you a curve ball and it's important to be there as best you can.
Losing my job and my son's hospital stay again helped me to think about what things I wanted to be pouring my time and heart into. How I wanted to balance my life. I sought out another job internally at Best Buy. This time I was specifically looking for a position that would challenge me and I wanted a manager who supported the family-first mentality.  
It was undoubtedly my dream job. I had found my sweet spot. I was doing work I was good at, had a team I was leading and most importantly, I was still able to volunteer my time as a coach and facilitator.
Ironically, 13 months almost to the day later, I found out that I was one of 400 employees who were being laid off. This time, I decided that I'd had enough. I took the package that was offered and left in the spring of 2012 without knowing what I was going to do next.
I took a month to relax and think about what I really wanted and what type of position I could really thrive in, while leading a more balanced life. I realized that when I finally had time to stop and breathe a little bit that I liked the feeling. My soul was calm after trying to juggle work, kids, being a wife, and all of the other roles that I was playing on a daily basis. I knew then that I wanted to build a business around that sense of calmness and continue to follow that feeling in everything that I did with my business.
At first, I did what I practically and technically knew how to do, but I realized that I was still missing that key component of helping and inspiring people. I needed that in my life. I decided to begin the journey of coaching people through their professional development.  It became clear that I wanted to continue my work with coaching and facilitating workshops. That is where I am energized and passionate. So I did and I launched my coaching practice under the brand name, Through-The-Hayes in June 2014.
I believe that working on our development should be exciting, rewarding and something we do often. That it shouldn't be pushed aside to be something we 'get' to because it helps us lead better, build strong relationships and increase our professional brand image.
My passion and expertise are focused on guiding individuals to be their best so they can bring their best self into their work and personal lives and are ready to take on any challenge they face. I know I am the right person to help people do this because not only am I a coach, but I live the work, I do the work and I practice the work Every Day. I am always choosing to make my development a priority and I bring that to my clients as well.
You were chosen as this month's Milestone Member. Tell us about your Milestone achievements.
Four years ago, this month, I finalized my new brand name, Through-The-Hayes, and actively launched this new side of my business. My plan was simple, organically grow and market my coaching service. As exciting as it was, my business was slow to launch. I am not a natural sales person and when it came time to try to sell my services, I stumbled over my words. Over time, with lots of education, training, coaching, self-disciple and self-belief, I have been able to narrow my business to a niche that fits best with my experience, expertise and passions.
I once told my husband that one of my goals was to get an office outside of our home.  A place to go so I wasn't distracted by other things, like laundry, dogs, and Netflix! This year was the year I was able do just that. It was a huge milestone in my business to be able to rent virtual space with OffiCenters and it has been the best investment for me! I can meet clients in a professional space, meet other entrepreneurs, do more in less time but most importantly, I feel a huge sense of pride at how far I have come since my launch date in June 2014!
No one likes to brag about their business, but if you HAD TO . . .
I have had the pleasure of working with some amazing clients over the last four years with one of my favorites being the Timberwolves, moderating strategic meetings. What a great experience to learn some of the behind the scenes as a sports fan!
We learn from our mistakes, especially in business. Give us some words of wisdom.
Mistakes happen. It's what you do with them that matters. Learn from them and keep moving. Also, know that it is okay to change your mind, change your path and try something new. The changes my business has taken over the last four years have ultimately been for the better even if at the time I didn't understand.
What "teacher" has made the most impact on your life and why?
Honestly, its my daughter. She has grit and determination. She wants to be on Broadway one day and watching her over the years practice, try, fail, get back up, get feedback (both good and bad) then do something about it, all while keeping her head up and pursuing her dreams are admirable qualities. Learning from her has been the best gift over the last four years because I want this to work out and I know I have to constantly learn, evolve, take feedback, etc. just like her. She is about to embark on her college career and I am going to miss having her around daily to teach me-thank goodness for technology so I can continue to learn from her from a distance!
What might someone be surprised to know about you?
I am a social introvert. I love being around others, teaching in front of a room, etc. but I LOVE regaining my energy alone, quietly, etc. It surprises many when they learn that about me.
If you could have only one super power, what would it be and why?
The ability to know what to say in any given moment. Sometimes I struggle with the right words of encouragement and motivation in tough situations. I would love to not have to worry about it and just be able to say the perfect thing to the other person that will make them feel better, do something different, etc.
What's the most interesting thing you've read or seen this week?
I am researching a lot on Executive Presence as I am prepping for a workshop later this fall and this week while reading/listening to an audiobook on the subject the author mentioned that your appearance (what you wear, how you wear it, etc.) ranks low on the priority scale but has one of the greatest impacts on how people perceive you and perceptions are very hard to overcome and you have to work hard to change the negative ones.
Why do you choose to WORK AWESOME at OffiCenters?
The amazing locations and facilities, the energy in the centers, the support the staff gives and the feeling like I am part of something is exciting. I am really looking forward to being a member for a long time!
In addition to our Member Directory, how else can people CONNECT with you?
My website http://www.through-the-hayes.com  has a contact page or LinkedIn at linkedin.com/in/lisacristofonohayes