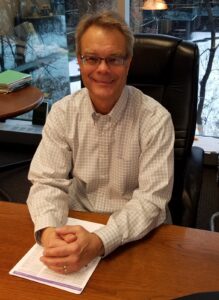 Craig Johnson has been an independent investment advisor for more than 29 years. With Craig and IFS Securities you can enjoy the benefits of unique market insights with customized service to fit your organization's needs. Craig shares more below!
Every business has a story, tell us yours.
I graduated in 1987 with a degree in business finance and knew I wanted to work in the financial industry. I had grown up in a hard-working farm environment and being self-employed seemed to make sense. After I graduated, I started by selling life insurance, which grew into retirement planning, investment planning and legacy planning.
You were chosen as this month's Milestone Member. Tell us about your Milestone achievements.
Being self-employed for 29 years as an advisor has blessed me with wonderful clients and I am thankful to be at OffiCenters.
No one likes to brag about their business, but if you HAD TO . . .
Clients appreciate me for my high business ethics and they know I place their needs and desires first in our relationship. I seem to have a gift that people will trust me quickly.
We learn from our mistakes, especially in business. Give us some words of wisdom.
Do not purchase after tax (non-IRA) mutual funds in the later months of the year until first researching that specific fund's capital gain distribution estimates for that year! If you make this mistake like I did in the early part of my career, it can be tax costly!
Share the best advice you ever received.
Put God first in your life, family second and your business third.
Describe your perfect day off.
Somewhere on a beautiful, sunny, warm, white sandy beach enjoying great time with family/friends.
What might someone be surprised to know about you?
I was a high school football official for 18 years. Even had a few games with Joe Mauer as quarterback.
Together we are stronger. Tell us something you like about being our member.
I think all of the people at OffiCenters are outstanding! Every one of them are very kind and truly want us to succeed. Wednesday donut day or bagels help too, or at our location, an occasional afternoon tap beer!
If you could work anywhere under the sun, where would you choose?
I was born and grew up in this frozen tundra, so anywhere related to my answer in question six!
How can people CONNECT with you?
Craig.johnson@ifssecurities.com or 952-943-3940