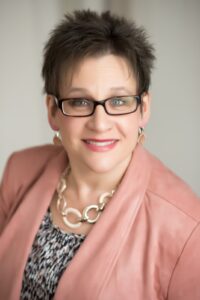 Deb Sauder, CEO and Leadership Strategist at Interact4Impact, has over 25 years of experience in equipping people to generate meaningful results in their personal and professional lives. Through her candid and innovative approach, she motivates her clients to take purposeful action in improving their abilities and achieving their definition of success. Keep reading to learn more!
Every business has a story, tell us yours.
Interact4Impact started out as Harmony4life, Inc. in 2005 based on a long-time dream of creating a business where I could empower people with the tools and strategies they need to succeed in work and life. My many years of experience serving people at all ages and in all stages of life as a social worker and a participant and leader in many community-based projects, has given me a unique perspective about the human spirit and what drives us to succeed in the best and worst of circumstances.
In 2006, I left my 20-year career as a County Social Worker and worked part-time as a business owner and a new mother. My concept for the business when I started out was to provide personal development strategies to singles, premarital education to engaged couples, and communication strategies to families. By 2008, I began getting requests from the people I was serving to come help them in their businesses. By 2010 I was working full-time, became a Certified Growth Coach, Certified Professional Analyst and trained facilitator. In 2013, Harmony4Life, Inc. became Interact4Impact and I was working exclusively with small business owners and their teams. By the end of 2014, I had tripled my business, and started to hire employees of my own.
Today, Interact4Impact has served over 50 small/midsize businesses and organizations and hundreds of professionals. Our mission is to work side by side with growing small/midsize businesses and organizations to elevate the performance of their people and create a workplace that is healthy, engaged, and productive. We do this by providing simple and effective tools and strategies to align, hire, develop, and retain great talent. We support businesses and organizations in addressing common workplace problems such as high turnover, low morale, poor communication, drama in the workplace, etc. The values we work by:
• Being in integrity with ourselves and our clients is the foundation for all our interactions and daily choices.
• We strive for excellence, constantly growing and improving.
• We focus on being efficient and effective.
• We teach and practice Emotional Intelligence in all that we do.
You were chosen as this month's Success Member. Tell us about your most recent Success.
I just finished working with Dress for Success Twin Cities, a nonprofit that serves underemployed women with the supports and training they need to get a job and keep a job. I was privileged to be a part of developing and facilitating the Professional Intelligence Program for their women. Since piloting the program, 80 women have graduated from a year-long intensive program where over 40% are thriving in the workplace and/or have moved up into leadership positions. Working with the amazing women at Dress for Success and learning so much from them has been an honor and has given me even greater insights into what leaders and employees need to be successful in the workplace.
No one likes to brag about their business, but if you HAD TO . . .
We are a small company that provides a lasting positive impact for other small/midsize companies to grow and thrive. We make a difference in people's lives because we meet people where they are and equip them to get to where they want to be.
We learn from our mistakes, especially in business. Give us some words of wisdom.
There are 4 very important things I have learned in business:
• Surround yourself by people that know more than you do – you don't know what you don't know
• Build a foundation of best practices – well developed processes and procedures can save your relationships, sanity, and your bottom-line
• Always have a plan of action – "winging it" costs dearly
• Understand yourself and others: know your strengths and fill your gaps and understand your internal and external customers' strengths and gaps.
Share the best advice you ever received.
Being in business is a journey not a destination.
Describe your perfect day off.
In the morning, sitting in a row boat in the middle of a lake, listening to and watching loons. In the afternoon, reading a good book and in the evening, sitting next to my husband and daughter watching a great movie that moves me.
What might someone be surprised to know about you?
I have spent many years singing on stage, entertaining small and large audiences.
Together we are stronger. Tell us something you like about being our member.
All of the staff are friendly and helpful and it is a great place to meet and connect with other business owners.
If you could work anywhere under the sun, where would you choose?
Italy
How can people CONNECT with you?
Please connect with me at info@interact4impact.com or my website at www.Interact4impact.com, and on LinkedIn www.linkedin.com/in/interact4impact, Facebook https://www.facebook.com/Interact4impact/, and Twitter https://twitter.com/InterACT4Impact , or give me a call at 952-222-3067 and let's get together for coffee so I can learn all about your business!