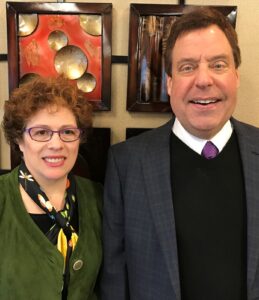 Jody & Steve Press, of Press Law Office, PLLC, are dedicated to helping people organize their estates, preserve their assets and ensure that their property passes to their chosen beneficiaries. They work with individuals, married couples, domestic partners and small business owners across the Twin Cities metropolitan area to help plan their estates in a timely and cost-effective manner. Continue reading to learn more!
Every business has a story, tell us yours.
We are husband and wife estate planning, probate & guardianship lawyers who formed Press Law Office, PLLC eleven years ago.
You were chosen as this month's Milestone Member. Tell us about your Milestone achievements.
Steve's milestone achievement was arguing a criminal case to the 8th Circuit Court of Appeals "en banc" (the full court). Jody's milestone achievement was negotiating an ERISA settlement in federal court.
No one likes to brag about their business, but if you HAD TO . . .
We've worked together for eleven years and are still married to each other!
We learn from our mistakes, especially in business. Give us some words of wisdom.
"Location matters."
Share the best advice you ever received.
"Go with what you know."
Describe your perfect day off.
Working out in the morning; relaxing in the afternoon.
What might someone be surprised to know about you?
We wrote a skit titled, "Gangster Maven" about Minneapolis gangsters in the 1930's. Steve is the Gangster Maven and Jody is the Gangster Girlfriend.
Together we are stronger. Tell us something you like about being our member.
We really like being able to meet with clients at any OffiCenters location. Our clients like it, too. And, we so appreciate the OffiCenters support staff!
If you could work anywhere under the sun, where would you choose?
Boca Raton in the winter; Minneapolis in the summer.
How can people CONNECT with you?
People can connect with us through our websites: estateplanningtwincities.com and estateplanningmn.com. They can also visit with us at OffiCenters in St. Louis Park.