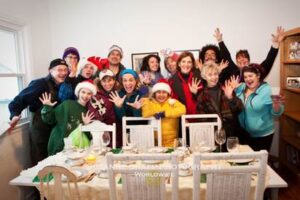 Mickey Mikeworth, Owner of Mikeworth Consulting, heads up a program called Project Elf, an on-going group of volunteers that gathers and supports the larger needs of the non-profit program called Project Secure. Keep reading to learn more about Project Elf below.
Tell us your story:
Seven years ago, I designed Project Elf and manage it with the help of numerous volunteers. Each year, we have been instrumental in establishing thriving homes for a multitude of families. Most of these families are coming directly from homeless shelters. Their most immediate needs are housing; however, they face a host of other challenges and that's where Project Elf seeks to connect them with additional resources throughout the year as they develop the skills to maintain their new lives.
You were chosen as this month's Milestone Client. Tell us about your Milestone achievements.
The stories each year are incredible and they are life-changing moments for the families we help. Our families are ready to create a better life, and we keep our families close to us, traditionally for another 7 to 10 years. So, if you are one of our elf volunteers you can continue to be updated on the families as they, and their children, grow. You can read Project Elf stories at projectelfmn.com or connect with us on our Facebook page.
No one like to brag, but if you HAD TO . . .
The best part of Project Elf is our holiday event. If you have ever seen an extreme makeover show for houses this is that delivered in real life! Project Elf helps a family out of the homeless shelter and into a life out of poverty. We make all of their dreams come true including helping them secure housing. It's quite a miraculous story.
First, we meet with a family and work with them for about two months on all of the things that they need to break out of poverty. Then we put together a secret plan with the parents to give their family a magical holiday. On Christmas Eve the kids are taken out to the mall all day (until 3PM) and have a wonderful time.
SHHHHH . . . As soon as the family gets in their car to leave for the mall, the magic starts. In six hours we transform an empty house into a fully furnished and decorated home. With 30 to 40 volunteers and two giant trucks, we literally make magic as fast as we can. Closets are filled with clothes for the children, cupboards are filled with food and dishes, the furniture is put up, pictures on the wall, books for the children, and the most incredible gift is beds for everyone. Then, like magic, at 3 o'clock we close up the house and secretly hand the parents back their keys. When the family arrives back home and opens the door it's like a miracle has happened while they were out!
What might someone be surprised to know about Project Elf?
We also created, run and furnish the ONLY no limit closets for homeless families in the city. We host that all year long. No limit closet means that you can take as many clothes as your family needs. Most nonprofits limit their donations to one or two outfits per family member. If any of you have had a child outgrow clothes two pairs of pants is not gonna get you through the week!
NOTE: If you have quality used clothes you can drop off once a month to our secret storage unit.
Together we are stronger. Tell us something you like about being our client.
Every holiday season OffiCenters/VirtualOffiCenters offers to help our families by purchasing "special gifts" for the children. If you would like to contribute we encourage you to connect with your center manager at your location.
How can people CONNECT/HELP?
For information on volunteering or to find out how you can help contact Mickey Mikeworth at mikeworthconsulting@mikeworthconsulting.com or visit Project Elf Minnesota website.
Immediate needs for this holiday:
Gift cards are totally appreciated because they offer a chance that most families don't have, a chance to perhaps go to McDonald's or a movie, buy medicine over-the-counter, or laundry soap. You want to help out but don't have time to shop? We also have a list that you can shop for from Amazon and just send it in to our office at Park OffiCenter.