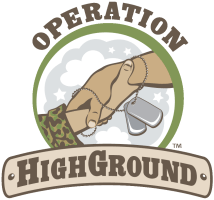 Rick Norling, Director of Operation HighGround, is helping identify and implement strategies to help Veterans with housing, employment, education and transportation. They react with individual strategies to help each Veteran as quickly and smoothly as possible and work closely with other Veterans groups to avoid duplication of services. Learn more now!
Every Business has a story, tell us yours.
Operation HighGround was started to meet the needs of our Veteran community and develop creative and innovative programs to meet the needs of the reintegrating/reintegrated Service Member and their families. We use these programs to develop community support through an understanding which allows individual groups to develop their own programs through an informed position based on their resources and skill level, and how to understand the difference. We started out on a shoestring, and to date every dollar received has gone to the development of these programs and to the Veterans and their families. We went through some growing pains as we defined our direction(s) and future plans. Our first phase, or Phase I introduced "Passing the Baton," a six DVD training series that tells the story of the emotions that Service Members deal with upon their return to civilian life as told by Military Chaplains and those that struggle with Post Traumatic Stress. It was introduced in the VirtualOffiCenters Lindberg Room.
What does being an Innovator mean to you?
Being considered an Innovator is to me a great honor. According to an article in Forbes, I understand it to mean someone who is an experimenter, tied with "a mover and shaker." I don't consider myself either. I feel that rather I am just one of many who has had enough of seeing others hurting and not doing anything about it. Operation HighGround is my attempt to give something back. I am humbled to be recognized by VirtualOffiCenters to share this with so many talented people.
But if I had to brag . . .
I would have to say that Operation HighGround has risen in the ranks of the Chaplain Corp in Washington DC and across the nation. We have found that many people are well meaning with their support of our returning/returned Service Members but do not know what to do. Passing the Baton gives them a new vision and in many cases started new thinking and planning around these important issues. Our supporters range from Business Leaders to former Service Members and High Ranking Military / Officers.
We learn from our mistakes, especially in business. Give us some words of wisdom.
I once asked a very successful friend of my family for some wisdom as I was starting out in business, and he said "When you get to the end of your rope, tie a knot in it and hang on, you will prevail" I thought about how stupid I thought it was at the time and left disappointed. Since that time I have held on to that nugget and it has become one of greatest treasures.
Describe your perfect day off.
Sitting by a lake, a fireplace, riding the motorcycle, anywhere without a phone.
What might someone be surprised to know about you?
How simple I am.
Together we are stronger. Tell us something you like about being our client.
There are many things but mostly I love to be around people who are interested in others. Too often we see business people who only look into the mirror and see only themselves. VOC and staff as far as I can tell don't even own a mirror. They just seem to look through an open window and see mostly others. A rare jewel in today's society.
If you could work anywhere under the sun, where would you choose?
Right here in the Twin Cities. I love the different seasons, the resources here, and mostly the people.
How can people CONNECT with you?
E: operationhighground.org, P:952-831-5525, C:952-393-3986
Operation HighGround at Facebook, Operation HighGround at Twitter or Operation HighGround at YouTube