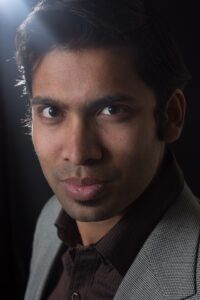 Devansh Garg, President of EasyAnalytiQ, Inc., provides cutting edge technological solutions to industries and small businesses, whilst creating software programs and algorithms that are advantageous to individuals as well as corporations. For more, keep reading!
Every business has a story, tell us yours.
The journey started in late 2013 when a student at University of Minnesota realized his natural inclination towards entrepreneurship. He got together with few of his other friends majoring in Computer Science, Mechanical and Industrial Engineering, and decided to start a mobile application development firm with few in-house Mobile Apps to improve the campus quality and university healthcare. The company won a few awards at the University of Minnesota and got some traction in different departments. The Company secured a few good Mobile and Web Application projects which gave us good headway. By the end of 2014, we were still growing, but wasn't producing enough revenue yet for the Co-Founders to consider MobileAnalytiQ as a full time opportunity. This crucial time period gave rise to EasyanalytiQ, where one of the Co-Founders from MobileAnalytiQ decided to continue the path of Entreprenuership by taking over the development team and projects. EasyAnalytiQ went into a legal contract with MobileAnalytiQ, where the company agreed to pay a certain percentage of the revenue generated by EasyanalytiQ from the projects referred by MobileAnalytiQ, if any.
EasyAnalytiQ, Inc. was then registered as a C-corp in early 2015 and went into operation right away. The company soon expanded its services from Mobile Application development to Custom Software and electronic product development and started targeting companies ranging from Startups to medium size businesses. With strong technical skills of the engineering team and support of the mentors, the company secured a few critical technology projects in custom software application development and complete product development. The company is planning to expand its services to provide a robust and comprehensive product development solution to the existing clients and future clients. Also, the company is working on two product ideas and is planning to bring the first prototype out in late 2016.
You were chosen as this month's Innovator Client. What does being an Innovator mean to you?
The world that we see today is a result of innovations- Some natural, some artificial. From the inception of time, nature has been the most creative and everlasting innovator and so for me being an innovator means being closer to nature.
No one likes to brag about their business, but if you HAD TO . . .
If I really have to then I would say that EasyAnalytiQ will be very soon one of the leading product development firm with multiple innovative products to serve the community.
We learn from our mistakes, especially in business. Give us some words of wisdom.
The most important thing in life is to understand that it's OK to fail and make mistakes. We seldom learn from things that we do right but we always learn from our mistakes. If life is a constant learning process then mistakes play one of the most crucial roles in shaping our personality and mindset. In business, I believe, the ability to take risk is very important. If you can train your mind such a way that it can replace the work "RISK" with the word "OPPORTUNITY" I strongly believe that you will have great success in near future.
Share the best advice you ever received.
I'll say three:
-Believe in yourself or else nobody will
-It's not about what you know but it's about who you know.
-The ultimate goal of every human being is to find the infinite and eternal happiness which can only be found within us.
Describe your perfect day off.
Cook some food. Relax with friends. Dream.
What might someone be surprised to know about you?
Back in the day- Nobody believed that I ever studied seriously.
Today- People are surprised when I tell them that 70% of my life was dedicated to sports and had very less interest in computer programming.
Together we are stronger. Tell us something you like about being our client.
There are many things I like about VirtualOffiCenters. The obvious one includes the beautiful locations/events. But the most important one is the high quality of people, both staff or members of VirtualOffiCenters.
If you could work anywhere under the sun, where would you choose?
On Mars!! I heard they have water too now.
How can people CONNECT with you?
By finding problems that I can solve for them or finding common interests. Secret Access Code: 612-598-0002 or gargx091@easyanalytiq.com