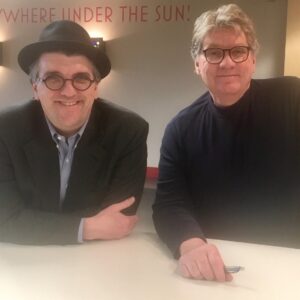 In March 2018 Jason Jones and Jon Halleen struck up a conversation at Park OffiCenter and in a span of thirty minutes, covered everything from politics to religion to business, everything that's wrong with the world, everything that's right and possible solutions that must might make it better. Book recommendations were exchanged and they both knew they had started a long conversation that was not bound by time. 
A couple weeks later they were back in the cushy booths when Jon brought up the idea of collaborating on some business opportunities. This opened up a whole new set of possibilities for them to explore. They began by sharing what they wanted now in their business and life, what they wanted to accomplish and how working together could make that happen faster, easier and more fun.
They began working on a bold new approach to the sales conversation that can help people become someone people love to buy from. They brought together many disciplines of cognitive, brain science, behavioral science, communication models and got excited because neither one of them knew the last time the sales process was disrupted. This training and coaching help sales people be more authentic and conversationally agile to make the buying experience as good as possible. They didn't just have an idea, they had an offering with the implications of an impact neither one could have imagined.
In April 2019, Jon became a partner with Jason at The Coaching Hour. Together they are offering a set of services using coaching models, and traditional social and behavioral science for personal and organizational change. Specialized offerings center on high level sales coaching, and training for customer experience. Business Coach Jason brings a highly developed expertise and skill in coaching, interpersonal and mass communications in addition to business messaging and marketing. Jon brings a background in clinical therapy, training, organizational change, and business experience in sales and management.
Being a member of OffiCenters has given The Coaching Hour amazing flexibility to grow. Starting as a single member business and growing into a team of 4 has been an easy and affordable transition due to the fluid nature of OffiCenters structure. The administrative support is always pleasant, highly responsive and reflects well on our brand as a world class company.
This is just an example of the type of connections happening in the spaces every day at OffiCenters! 
You can connect with them at: Jason@thecoachinghour.com; jon@thecoachinghour.com; Jason: 651-646-8083; Jon: 612-605-1849