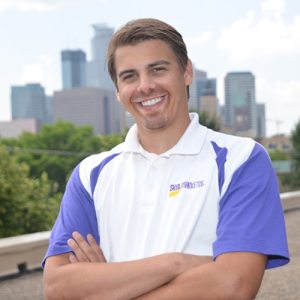 Ben Theis, President of Skol Marketing, specializes in web optimization, design, SEO, and social media marketing. With a passion for small business & experience working for Google, Ben is a great resource for getting your business found on the web. Below he shares how VirtualOffiCenters supports his growing business.
I had known several people who had officed out of OffiCenters and always been intrigued. I was officing at a different local coworking place before I started at OffiCenters, but started becoming more involved when I attended the monthly networking events. Once my other coworking space suddenly closed, I quickly jumped at the opportunity to become apart of the OffiCenter family and joined!
We needed a space that offered the flexibility that my online marketing company needed as well as strived for. Being a millennial and working for previous companies like Google, I didn't want your "normal" working space that has become accustomed to by so many. I hated the idea of having four walls and desk that I had to sit in every day. Coworking, and OffiCenters in particular, offer flexibility with their coworking space but also their 5 locations that I needed and wanted!
OffiCenters has been integral to our substantial growth in 2016. Their setup and support has allowed us to not only grow, but supports our growth and allow us to morph into a more structured business, while also being cost effective. We have enjoyed becoming more involved within the community as we have been able to help other OffiCenter members while others have also helped us. I am very excited for our future as OffiCenters allows us to grow and at our own pace with the support they have for all sorts of company sizes.
We have honestly made so many connections by becoming apart of the OffiCenter culture and family. We have not only gotten clients, but also business partners, workshop partners and just being able to be friendly and social with other micro businesses. Being a digital marketer, it makes it pretty easy to connect with me! I love networking and finding ways to connect with people that I can help refer business to or be a resource myself. Connect with me by email, on social media, give me a call at 612-787-7565 (or text), check out our website or even drop by the Park OffiCenter where we frequent. I look forward to connecting with you. Skol!