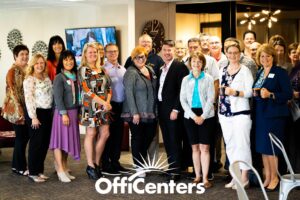 WeWork has been featured all over the business world. And now a lot of people are wondering what the WeWork debacle means for Entrepreneurs and other coworking spaces. 
Here's our take on it! Coworking is bigger and stronger than WeWork. Since 2015, coworking space square footage has more than doubled, to over 80 million in the U.S. Based on trends in the workforce, it looks like this growth is not only justified but also necessary.
What should entrepreneurs, freelancers, remote workers and others look for when it comes to choosing their coworking space? COMMUNITY! Whether you work alone or with a team, an energized work environment can help with isolation, can ignite creativity or become a place to collaborate with like-minded professionals. 
OffiCenters is proud to have offered members a community based coworking space for over 30 years in the Twin Cities. Our unlimited plans start at only $99/month and include access to 7 locations, free networking events and workshops and a business community over 1,500 strong. Stop in or call us for a tour or free day pass today and see how choosing the right coworking space can work for you!