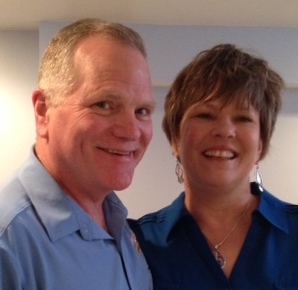 Matt Gulling and Mary Stalter-Gulling, Owners of VandenHoek Cleaning,  specialize in quality residential cleaning, commercial janitorial service and specialty cleaning. VandenHoek Cleaning is proud to be a family-owned and operated local business that strives for excellence in customer satisfaction for jobs of all sizes in residential, commercial, and professional spaces. Learn more below!
Every business has a story, tell us yours.
After raising our family in the Twin Cities, Mary and I ended up moving to Ohio for a job in "Corporate America." Our four adult kids stayed here. One day we were on the phone with family, for the first time our oldest grandchild, who was two, called me Grandpa. I looked at Mary and said, "We have to find a way to move back to Minnesota." Tired of "working for the man" we started shopping for a business. We found a match with our skills and interest in VandenHoek Cleaning.
You were chosen as this month's Innovator Member. What does being an innovator mean to you?
We innovate with fair treatment to our employees. Believe it or not, in our industry, we hear from too many employees that fair treatment is a rarity. One employee in his late 40s, after we gave him a raise, looked at us and said "that's the highest pay I've ever had in my life." We gave another employee a second shot after he graduated from a treatment program with a felony on his record. He's one of our best employees now. We take a chance with people – and it usually pays off. People are everything. We prove it by running our business around two unbreakable cornerstones: (1) We always treat our customers and our employees fairly and honestly, and (2) We run our business with impeccable business ethics, always and without exception.
Additionally, we work with our employees to find the best scenario for their work schedule. We strive to provide shifts that fit best with their family's schedule and we provide as little or as many hours as the employee wants/needs. In an industry where nearly all employees are part-time, hourly paid, we have a tremendous success rate for keeping employees. The high turnover rate experienced by many cleaning companies is not an issue for us. Working closely with our employees to provide a mutually acceptable schedule has been the key for this success.
No one likes go brag about their business, but if you HAD TO . . .
When we bought VandenHoek Cleaning in October 2015, it was a real pig with lipstick. Although established in 2000, it was sold in March 2015 to two guys who proceeded to ruin the company. Employees hated the management; customers were either firing us or thinking about firing us. The high turnover was causing a lot of red in the books. The troubles were well disguised by the short-term owners, and while we knew there were some problems, we had no idea how deep and extensive they were. Within a year we turned EVERYTHING around! Customers now love us and our work. We have great employees who enjoy their work and appreciate our management style. Many new employees actually come as referrals from current employees. We are profitable. And business is growing, many times by referrals from current customers.
We learn from our mistakes, especially in business. Give us some words of wisdom.
We are blessed that all of our employees and most of our customers are good, honest people that are good to do business with. But the saddest lesson I had to learn is that there are many dishonest people out there too – whose business ethics are way different than our own. Ask any question and 9 out of 10 people will tell you the truth, but that 1 in 10 who does not, can do a lot of damage. Ask a lot of questions – Dig for the truth. Try hard to weed out the bad apples.
What teacher has made the most impact on your life?
Matt: More than anything, my parents were my best teachers. They lived through the depression, my father was a marine in the south pacific in WWII, and my mother was an RN. They raised 7 kids and taught all us that complaining, whining, and feeling sorry for yourself was utter nonsense. They taught us that hard work, with a good dose of faith, laughter, modesty, love, compassion, and respect for all people and things; is the best recipe for a successful life.
Mary: My parents also made the most impact on my life. Treating all people with respect was an important lesson I learned from them and through them, from my Catholic faith. I learned that all people, regardless of their station in life, are to be treated with dignity, care, and love.
What might someone be surprised to know about you? We have been married for 37 years and in addition to Minnesota, which is now home, have lived in Ohio, West Virginia, New Jersey, Texas, and Arizona.
If you could have one super power, what would it be and why.
We'd rather think about and discuss reality and actual possibilities. Our main objective is always customer satisfaction – that's a super power VandenHoek Cleaning already has.
What is the most interesting thing you've read or seen this week?
The really sad event about the duck boat drownings in Branson was, while interesting, incredibly painful to imagine. It is something every human being can relate to, and also not relate to. How can anyone relate to the survivors who lost 9 family members while on vacation? It impacted me in a realistic way because Mary and I were on our own family reunion vacation at the exact same time.
Why do you choose to WORK AWESOME at Officenters?
The cost savings is incredible. We used to spend over $1,000 per month to rent office space. Now, for less than $100 per month we have access to several offices around the Twin Cities. Our business is comprised of over 30 employees. Thanks to OffiCenters, we always have a place to meet that is professional, clean, friendly, and convenient.
In addition to Member Directory, how else can people CONNECT with you?
Go to our website: www.vandenhoekcleaning.com. Remember that we clean offices, clinics, medical manufacturers, and apartment complexes. We also do outstanding cleaning for real estate turnovers. And don't forget residential!