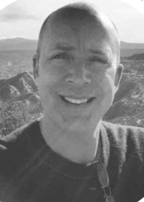 Dan Johnson, VP of Sensurion Aerospace, has 25 years of experience in the aviation, sensor systems and communications industry. Dan is a licensed commercial pilot with experience in flight-test, certification, special-mission and irregular operations. Keep reading to learn more!
Every business has a story. Tell us yours.
Sensurion Aerospace offers clients leading-edge, FAA certified, drone services and unmanned aircraft system platforms that deliver actionable information and enterprise-level integration through specialized sensors, utility-grade drone platforms, SaaS intelligence and cloud-based solutions. Sensurion is a leader in special-mission drone applications, connecting critical data and information to decision-makers in real-estate, construction, agribusiness, security and law enforcement markets, worldwide.
You were chosen as this Month's Innovator Client. What does being an innovator mean to you?
Innovation is the name of the game. Bridging the gap between professional drone operations and intelligent data management is critical to the growth of our business. We offer innovative solutions to problems that have plagued our customers for decades…with not only unique, custom drones, but with leading edge data intelligence, virtual recognition, artificial intelligence and high-speed secure communications. Sensurion drone solutions are truly innovative - that's what makes us different.
No one likes to brag about their business, But if you had to . . .
Sensurion was the first drone company to certify its unique aircraft with the FAA through a rigorous process akin to that of what Boeing or Airbus goes through on a new model. Sensurion management is world class and has led companies, technology innovations, and civil and military disruptive technology adoptions for over 40 years. Sensurion prides itself as being consultative with its clients, problem solvers, and innovators…bringing customers exactly what they are looking for - to make their business better.

We learn from our mistakes, especially in business. Give us some words of wisdom.
Plan your flight and fly your plan…know when to abort and when it's ok to go further…listen to your gut, but trust your training.
Share the best advice you ever received.
Find Balance.
Describe your perfect day off.
Take the airplane to Madeline Island for a sunset walk on the beach…skipping stones and breathing the fresh air - with my family.
Together we are stronger. Tell us something you like about being our client.
The consistency, reliability, professionalism, sense of humor…all makes my office experience and that of my co-workers, clients, partners, and board members - extra enjoyable.
If you could work anywhere under the sun, where would you choose?
I would work from a beach house in the Caribbean, my private jet, and my penthouse loft in London.
How can people CONNECT with you?
Please email me at dan.johnson@sensurion.com