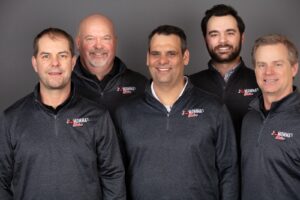 Wayne Kemper, and the entire team at JoMomma's Salsa, is on a mission to provide the best tasting salsa to as many people as possible and have a great time doing it! JoMomma's Salsa has six guaranteed addictive flavors to choose from and is selling in a store near you! Keep reading to learn more!
Every business has a story, tell us yours.
JoMomma's Salsa started as a dream in a fishing boat full of friends and had nothing to do with salsa. The idea was to do something that we love surrounded with people that shared our humor, enthusiasm and drive to be the best. It wasn't until many years later that we found the vehicle, JoMomma's Salsa. In the beginning, salsa was made one blender at a time and in the amount of 10-11 containers each time. The process to become a legitimate wholesale manufacturer took almost a year and a half from start to finish. Once we had the proper licensing and our final inspection approval, we began production out of Bella Pizza in Cottage Grove after hours. We all worked full-time jobs outside of JoMomma's, and there were many nights with little to no sleep. We spent most of our weekends finding events and small local farmers markets to spread the taste of JoMomma's Salsa. We were able to receive our first break in specialty meat markets across the Twin Cities area that helped our exposure and credibility. We decided to go all in and see what we could do with JoMomma's and began working full-time at salsa. With the efforts of a small, passionate, and dedicated team, we are fortunate to be in local small and large grocery markets.
We could not have done it alone, and we are humble and extremely thankful to everyone that has helped us get to this point.
You were chosen as this month's Success Member. Tell us about a recent Success.
JoMomma's Salsa has recently been put on the shelves of some Cub locations, with commitments for a majority of the other Cub locations, plus on the shelves of Hy-Vee in Cottage Grove. With other large grocery chains on our roadmap, the growth of JoMomma's Salsa continues.
No one likes to brag about their business, but if you HAD TO . . .
JoMomma's Salsa is proud to offer a fresh salsa that is different from any other salsa in the market. Our tagline is "Always Fresh, Never Boring" and we believe in it with all our heart. We are most proud of watching people try our salsa for the first time and watching what we call the "JoMomma Smile" reaction. This smile is the entire reason we love what we do.
We learn from our mistakes, especially in business. Give us some words of wisdom.
There have been countless mistakes in my business life. They are all part of the process, but the one word of advice that was given to me that I carry most was from my grandfather; perseverance. I believe that taking the "mistakes" from my past and use them as learning experiences, do not quit, but persevere and move forward. My success is measured daily predicated by overcoming fear, obstacles, and giving a complete effort to accomplish my goals.
What "teacher" has made the most impact on your life and why?
I have been extremely fortunate to have many influential teachers throughout my years. My other grandfather was a very wise and quiet man. He taught me to be a good listener and always lead with a smile. He also taught me to appreciate all people and not to be judgmental. I always felt the utmost respect for him because he was more interested in others than himself. Therefore, you could see how people he was in contact with genuinely desired to be around him.
What might someone be surprised to know about you?
I can make a mean cheesecake.
If you could have only one superpower, what would it be and why?
The ability to fly. Flying would allow me the ability to have more personal relationships away from the black box and phone.
What's the most interesting thing you've read or seen this week?
An article for the player of the week highlighting one of my good friend's son. The Star Tribune honored his son as one of the athletes of the week. He plays high school adaptive sports, and the honor was for hockey. I'm always impressed by how unselfish they play as a team and seem to be happier to see others have success. They celebrate each victory as if it was there first. To me, this is pure humanity, and I enjoy every opportunity to catch a game.
Why do you choose to WORK AWESOME at OffiCenters?
I love the atmosphere and energy that's emitted throughout OffiCenters. We have developed many key relationships in a short time since calling OffiCenters home that have been critical to our success. OffiCenters has provided an environment that promotes a positive can-do attitude with unrelenting support.
In addition to our Member Directory, how else can people CONNECT with you?
Please feel free to contact me via email or my mobile number below.
Email: wkemper@jomommas.com
Mobile: 651-226-3034
Stop in at Woodbury OffiCenter to try our salsa or find a local retailer HERE! Thanks for your support!