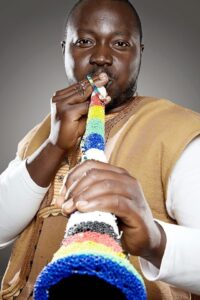 Hindolo Pokawa, Founder & Executive Director of Sierra Leone Foundation for New Democracy, is actively transforming extractive and exploitative dynamics by reviving Africa's nonviolent, deliberative traditions of decision making—the foundation for a new democracy—through the vehicles of Food Sovereignty & Ecological Resilience, Mass Critical Literacy, and Cooperative Economics. Learn more about their initiative below.
Every business has a story, tell us yours.
Sierra Leone Foundation for New Democracy (SLFND) was founded 4 years ago by Executive Director, Hindolo Pokawa. SLFND is an international development organization focused on sustainability, early childhood education, and social enterprise in rural Sierra Leone. We have developed the country's first rural early childhood education center, retreat center, and currently building a village library. Our goal is to reshape global relationships and create new, democratic ways of engaging with individuals, families, institutions, and the environment.
You were chosen as this month's Innovator Member. What does being an Innovator mean to you?
Our innovation is coming along so that the community in Sierra Leone and all their strengths and abilities can shine. While most NGO's choose to give solutions and charity, our work is to co-create with the peoples of Mondema Village in Sierra Leone. The true innovators are the villagers and children that we serve and work alongside each day. The innovation that we bring to our work is our genuine commitment to building new global relationships.
No one likes to brag about their business, but if you HAD TO . . .
We have established the first rural early childhood education center in Sierra Leone. This is an important step in reaching mass critical literacy in the country. A country with only 37% literacy rate, and with one of the world's highest infant mortality rate; the community believes that the foundation for change starts with families and community. Our work is centered on the spirit of Ubuntu, "because you are, I am… Because I am, you are"
We learn from our mistakes, especially in business. Give us some words of wisdom.
Don't try to expand too quickly. Take time to reflect on your strategic vision before pursing growth opportunities because opportunities can quickly become burdens.
What "teacher" has made the most impact on your life and why?
My growth has come from a number of lived experiences over the years, mimicking nature to live a supported life has been very important in creating this purpose. Teachers like Wangari Maathai, Chinua Achebe, Paulo Freire, Frantz Fanon, Steve Biko, Vandana Shiva, and Issa Shivji, has had a positive impact on the work I and others have been engaged in.
What might someone be surprised to know about you?
I wanted to become a Catholic Priest at age 16, the civil war in Sierra Leone interrupted that dream, I use to be in choir, played hand ball.
If you could have only one super power, what would it be and why?
If I had one super power, it would be that ability to instantly heal anyone or anything. Healing is central to SLFND's work. Everything we do is to heal the earth, relationships, and intergenerational traumas perpetrated by a colonial past and violent conflict. If I could heal this history instantly, our work would be complete.
What's the most interesting thing you've read or seen this week?
It is interesting how an early childhood centered approach can benefit the most improvised communities around the world. I am a 2018-20 Fellow for Zero to Three, and this week, a colleague of mine sent me a report on the work that is taking place in the country of Georgia around "training early Childhood intervention Workers to Close a Workforce Gap", I was so glad to see how similar solutions can be applied in other parts of the world.
Why do you choose to WORK AWESOME at OffiCenters?
The flexible work spaces, locations, and reasonable prices are what made us choose to WORK AWESOME!
In addition to our Member Directory, how else can people CONNECT with you?
Please check out our website at www.slfnd.org. You can also contact our Marketing and Communications Chair for more information at communications@slfnd.org.