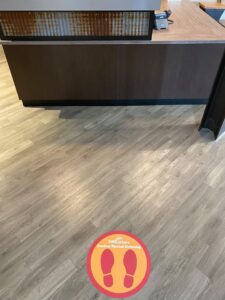 COVID-19 has caused an unprecedented disruption to how we work. As the Governor lifts the stay at home ban, OffiCenters is preparing to welcome our members back into the office. Here are a few things we've put in place to make coming back into the workspace manageable:
• Our buildings and staff have added additional cleaning measures to ensure the health and well-being of members. Please continue to wash your hands per CDC guidelines.
• We have purchased plexiglass barriers to use at the front desk as well as installed 6-foot distancing stickers in the lobby, kitchen and copy areas.
• Members can continue to utilize their private offices and meeting rooms while still maintaining physical distancing.
• We've adjusted our common areas to balance flexibility and wellness. Please use the "every other seat" method in coworking spaces.
• Meeting rooms will be available at half maximum capacity. We will require 15-minute spaces between bookings to allow time to appropriately clean the room. 
• We strongly suggest members, staff and guests should wear a mask when entering OffiCenters or when walking through any common space. Members who have full-time space do not need to use their masks in a private office.
• Kitchens will be open with limited restrictions including the use of single serve coffee only and individually wrapped forks. Please place any dishes directly in dishwasher. Lunches may only be stored in shared refrigerators when in a labeled paper bag. Refrigerators will be cleaned daily.
• Networking will continue to be on virtual platforms. See our website for a full list of events. If you have a topic you want to present, please contact us.
• We will still provide free mail forwarding and additional phone services until all restrictions are lifted.
• Allow for more time in buildings where elevators are used. Physical distancing allows only 2 people per elevator cab.
Lastly, let's all remember that we are working together to create the best solutions for our community. We will continue to modify our workspace practices as needed. It is time to dig deep and practice patience, tolerance, and grace. We can get easily frustrated and anxious during such extraordinary circumstances. It is important that we stand in unison and remember we are stronger together.