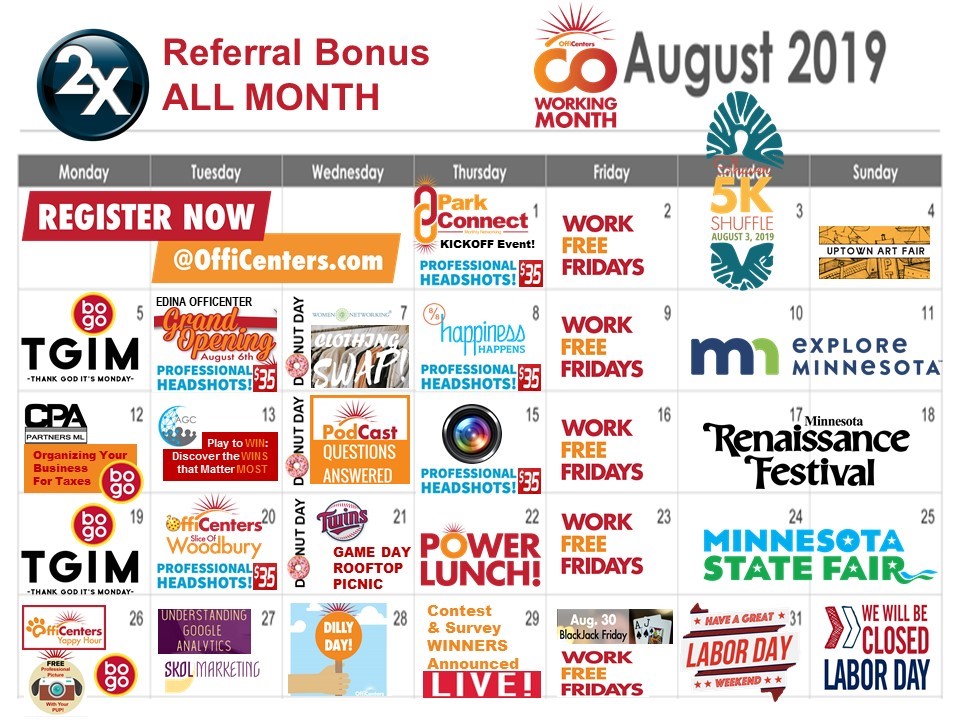 August is CoWorking Month at OffiCenters and there is something for everyone! We have packed our calendar with parties, networking and special offers, making this the perfect time for you to join us and Work Awesome!
CoWorking Month Special Offers:
BOGO Monday: Sign-up for a CoWorking plan and get your 2nd month FREE
Work Free Fridays: Everyone is welcome to come in and work with us from 8:30AM-5PM! Stop in and see how CoWorking can help your business!
2X Referrals: We pay for your referrals and are doubling your bonus for the entire month!
Professional Headshots: Update your look and receive 2 professional headshots for only $35!
Free Month of Expert Health Coaching offered by E Squared Health ($249/value)
Take our quick survey and have a chance to win $100! 
CoWorking Special Events:
We kick-off the month on August 1 with our popular Park CONNECT Networking Group.  This event is well attended, bring plenty of business cards!
Our Grand Opening Celebration at Edina OffiCenter will include live music, food, drinks and be the hottest party of the summer. Don't miss it!
We're Co-Hosting a Clothing Swap with Women In Networking, benefiting Ready for Success. Bring women's clothes and accessories you no longer wear and that are in good condition and swap for some new pieces!
Organizing Your Business for Taxes Workshop will offer tips on how to get ready for the end of the year and filing your 2019 taxes, led by Melissa Long of CPA Partners.
Play to Win: Discover the Wins that Matter Most Networking Event! This 2 hour event at Minnetonka OffiCenter features plenty of networking and Motivational Speaker Lea Bolsen.
Slice of Woodbury, Networking & Free Pizza Lunch - join us for open networking with like-minded business professionals!
Rootop Picnic at Union Plaza OffiCenter! Grab lunch, strike up a conversation and hear and cheer on our North Loop neighbors (MN Twins) with us!
PowerLunch at Park OffiCenter! Speaker: Brad MagicBrad Guidam presents The MAGIC of Experiential Marketing with LIVE Events. Lunch is on us!
Bring Your Dog to Work Day at Woodbury OffiCenter! We're proving lunch, treats and pictures with your pup!
Ben Theis of Skol Marketing presents: Understanding Google Analytics
We will wrap up this awesome month with Dilly Bars at all OffiCenters locations!