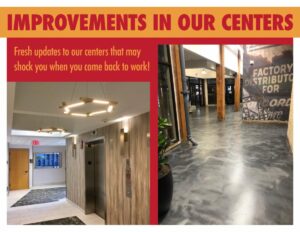 Many of our buildings are making improvements this spring! Here is a brief snapshot of what you can expect to see in the very near future:
Woodbury Office Center - The parking lot is currently under construction and will include new concrete, building, lights and a water feature. Landscaping also starts this month.
Edina Executive Plaza - New bathrooms and building lobby and entrance at Edina OffiCenter.
Union Plaza - Beautiful updated first floor flooring. And, the rooftop deck is now open!
Bell Plaza - The first floor lobby is getting a makeover and will include more seating options!
Park Place East - New Mini Market on the first floor scheduled to open this week!