WINspired Luncheon
March 21, 2018 @ 11:00 am

-

1:00 pm

$34.00
Event Navigation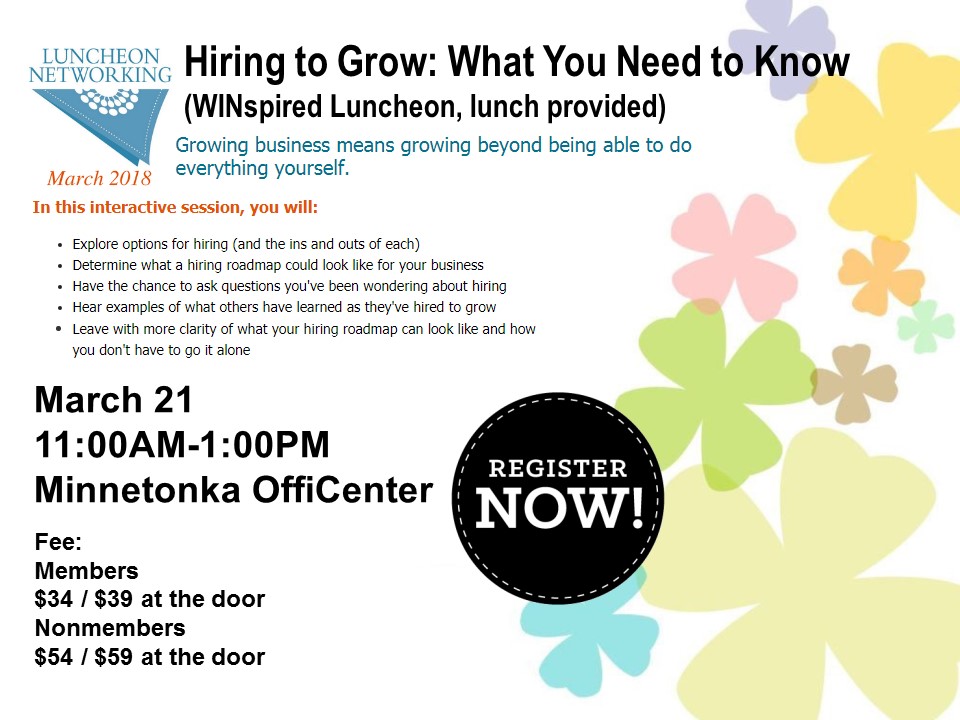 This session was so well received that we are bringing it back!
Space is limited, so you we encourage you to sign up early.

Growing business means growing beyond being able to do everything yourself. 
The way you build your team sets the future course for your business success. Will you hire contractors, virtual assistants, or employees? What are the ramifications of each, and how can you ensure you are being compliant? What will your plan be when your team helps take your business to the next level and requires more team members? How will you manage: Payroll? Hiring? Training? HR? Succession planning? Benefits? 
Frankly, it can all become overwhelming - but it doesn't have to be! Come to research your options and ask questions. Learn about a typical cycle that businesses go through when they begin hiring (as well as what pitfalls to avoid). Find out how to create a roadmap for hiring on your own and/or working with an HR partner to help you at each step. 
In this interactive session, you will:
-Explore options for hiring (and the ins and outs of each)
-Determine what a hiring roadmap could look like for your business
-Have the chance to ask questions you've been wondering about hiring
-Hear examples of what others have learned as they've hired to grow 
Leave with more clarity of what your hiring roadmap can look like and how you don't have to go it alone.
This luncheon will again feature our popular "WINspired" format, where you'll be invited to participate in a facilitated conversation, allowing us to explore the topic in a more in-depth, conversational manner. Listen and learn as others share stories and questions about about hiring to grow. We'll discover the foundation we need to set for growth.
Related Events