PowerLunch!
August 23, 2018 @ 12:00 pm

-

1:00 pm

FREE
Event Navigation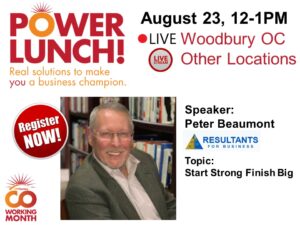 Speaker: Peter Beaumont, Resultants For Business
Topic: Start Strong . . . Finish Big: Growing a Thriving Business
Are you running a valuable business…How do you know? 
This interactive and informative session for business owners is focused on measuring and strengthening the value of your business through identifying and outlining key factors (drivers). By attending this event, you will have the opportunity to:
-Learn about the eight key drivers of company value. Using data from more than 30,000 companies, we've found these factors actually impact your company's value and growth more than the industry you're in or the amount of revenue your company generates.
-Discover your company's hidden assets. Your company has attributes that you may not have fully tapped into yet … attributes that will increase your bottom-line and make your business come into its full value.
-Spot your company's silent killers. Uncover which areas of your business you should focus on in the short-term to get the ultimate long-term results.
-Complete a confidential evaluation of your business and schedule a personal 1-on-1 follow up meeting with an RFB Business Advisor (no charge, no obligation) to review the results, identify gaps / greatest opportunities and determine your next steps.

Speaker Bio:
Workshop leader Peter Beaumont has worked with Fortune 500 companies such as Coca-Cola, Philip Morris, McDonald's, Intel and Wrigley across five continents and in over 60 countries. His primary roles included management, strategic marketing and client services and he has cited his diverse experiences as the number one reason he and his clients are able to quickly adapt to changing cultures, economies and obstacles.
Most recently, Peter partnered with Resultants For Business (RFB), a leading Twin Cities business advisory firm. As Business Advisors, Certified Value Builders™ and EOS® Implementers, Peter and the RFB Team work alongside business owners and executive leadership to implement the framework and tools proven to make companies great. Utilizing EOS® (as referenced in the book Traction) and the Value Builder System™, RFB helps owners eliminate frustration and get what they want out of their business.  
Related Events