Creating a Joy Filled Business with 50 Fun Things
January 16 @ 2:00 pm

-

4:00 pm
Event Navigation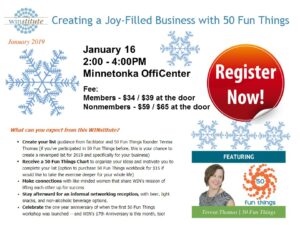 When planning your priorities for 2019, does your own happiness make the list?
"Joy" or "satisfaction" can seem like quaint ideas when you're working on your business. Or, maybe they're something to aim for after you've achieved some level of success. But you can be happier now. In fact, you absolutely should be - your business depends on it! Allowing yourself to stay unhappy or stuck will deaden your creativity, kill your productivity, and ultimately rob you of the energy you need to keep moving forward. But what can you do about it when you feel overwhelmed just juggling the day-to-day tasks of managing your business?
What is 50 Fun Things? When WIN director, Teresa Thomas, turned 50, she created a list of 50 fun experiences she wanted to have during her 50th year. The fact that 50 is such a big number helped her think bigger, push herself outside of her comfort zone, and really make her own joy a priority. She was surprised at how the list opened new doors for her professionally (such as facilitating workshops in Tuscany!), and started sharing the concept with others via 50 Fun Things workshops. At this special workshop, you'll be challenged to make your own list, specifically focused on fun things you'd like to do in your work life.

What can you expect from this WINstitute?
-Create your list guidance from facilitator and 50 Fun Things founder Teresa Thomas (if you've participated in 50 Fun Things before, this is your chance to create a revamped list for 2019 and specifically for your business)
-Receive a 50 Fun Things Chart to organize your ideas and motivate you to complete your list (option to purchase 50 Fun Things workbook for $15 if would like to take the exercise deeper for your whole life)
-Make connections with like-minded women that share WIN's mission of lifting each other up for success
-Stay afterward for an informal networking reception, with beer, light snacks, and non-alcoholic beverage options.
-Celebrate the one year anniversary of when the first 50 Fun Things workshop was launched -- and WIN's 17th Anniversary is this month, too!
Related Events