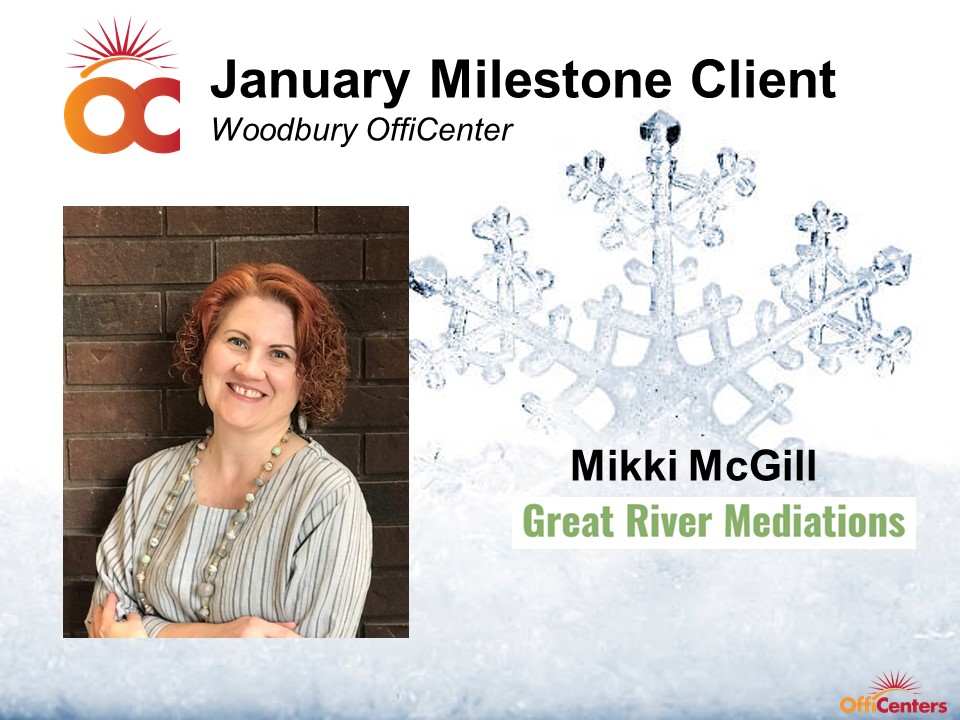 Mikki helps couples move on from marriage to be the people and parents they want to be.  Mikki helps families move on from marriage to be the people they want to be and do the things they need to do. She is a mediator with Great River Mediations, a local mediation collaborative.
 Every business has a story, tell us yours.
All too often, the disappointment and anger generated by the divorcing process destroys co-parenting abilities making children victims of the divorce. Sadly, this story has been repeated far too often.  We developed Great River's family-oriented approach to guide parents through the divorcing process in a manner that empowers them to overcome the disappointment and anger, so that they can effectively co-parent their children through to adulthood.
You were chosen as this month's Milestone Member. Tell us about your Milestone achievements.
Yes, thank you for choosing me to be this month's Milestone Member.  While nobody wants to be going through a divorce, there's a sense of relief afterwards. Great River Mediations helps people get to that relief in a way that saves what can be saved so they can continue to be there for their kids and themselves.  I'm passionate about my work as a mediator because it makes a significant difference in people's lives.  I think the word must have gotten out!!
 No one likes to brag about their business, but if you HAD TO . . .
It's helpful to have others walk through divorce with you.  At Great River we won't pick sides but you won't have to move through divorce alone.  We understand the process of divorce and what needs to be decided.  There's loss in divorce but there's a future ahead and we help people focus on that.  I'm told by clients that I help bring peace to conflict and excel at being neutral.
 We learn from our mistakes, especially in business. Give us some words of wisdom.
I keep a long list of Lessons Learned 😉, here are a couple:
People don't care how much you know until they know how much you care. In other words, ask good questions and listen sincerely.
Experience is a great teacher that asks, 'Are you listening?' ...Am I paying attention?
Mistakes are life's tuition. There's a price to pay but don't pay more than you should to get the outcome you need for you and your loved ones—you may need those resources later!
What "teacher" has made the most impact on your life and why?
Many people (my parents, siblings, friends, kids, business associates and clients) have shared their lives with me and that is a privilege offering me continual learning opportunities.  But my relationship with God has taught me the most.  No matter what I've had to face in life, He has always seen me through to the other side. It's a relationship I depend on that has required a great deal of patience on His part toward me.  Fortunately, He doesn't give up.  I won't force faith upon anyone but He has personally carried me through many difficult and challenging times. 
 I gained my graduate Certificate in Dispute Resolution from Hamline University several years back when I was still working in the finance field.  That certificate made a big impact since it lead me to be the mediator I am today.  Last year, I mediated 50 conflicts addressing a variety of contexts. Each mediation acts as a teacher for me since people bring different life experiences, histories and personalities with them. And the combination of people in the same room creates different dynamics.  I'm currently working on my certificate as a Divorce Financial Analyst with courses in how to deal with assets, liabilities and the tax implications involved.  It's important that your mediation professional understands these issues and how they work as they are essential to achieving a fair distribution in divorce.  I truly enjoy supporting people and families.
What might someone be surprised to know about you?
Some people look at teenagers and internationals and think of conflict, but I love both! Over the past 12 years, I've lived with 40 people from 14 different countries.  I've supported hundreds of students from 27 countries covering 4 of the 6 continents and I've helped settle families from around the world to our home state of Minnesota with various Fortune 500 and other companies. I truly enjoy helping people navigate their needs in life to get them where they want or need to go! Family mediation helps me to help people do that at a difficult time in their lives.  All that said, I'm a Minnesotan at heart and love our great 10,000 Lakes and all that MN offers!  I'm also a micro collector of symbols of international peace and hope.
If you could have only one super power, what would it be and why?
I'd have the superpower to give people peace and well-being. I feel that through mediation I'm able to do that in small powerful ways.  Mediation provides a safe, peaceful approach to meet a family's needs.  Sanity isn't often something associated with divorce but mediation brings sanity to the equation.  It's a cooperative approach to peace and wellbeing.
A second superpower I'd choose would be to be a healer.  One way to do that is to be kind.  A friend of mine says Kindness is a superpower and I have to agree.  Kindness can be powerful.
What's the most interesting thing you've read or seen this week?
It's only Monday, so we'll see, but…recently I understood that Great River is different because we also have a social mission…to help hurting families be different than they are currently!  When one or both spouses are hurting so is the family.  We help mitigate the pain by having a plan and helping the couple navigate through divorce by moving them through the decision-making process all-the-while building muscles of cooperation which can be very important especially if they will be parents or grandparents in the future.  A peaceful divorce is all about choices.  We offer a healthier option!
Why do you choose to WORK AWESOME at OffiCenters?
I partner with Officenters because I wanted a professional atmosphere to help spouses/families going through divorce to move on…a place where they could can feel safe and get some of the help they need through Great River's specialized services. It's a model that works well!
 How else can people CONNECT with you?
Mikki McGill
greatrivermediations@gmail.com
651-399-2222
www.greatrivermediations.com
Remember, Great River Mediations helps untangle knots by helping families detangle their lives so they can move on from marriage to be the people and parents they want to be. If you know of a couple divorcing, refer them to Great River!
Link and Follow Great River Mediations on LinkedIn, Facebook, Google and Twitter.