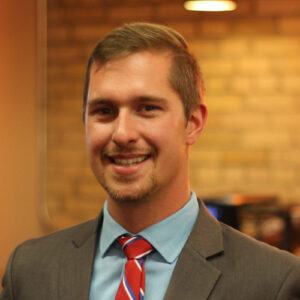 Zachary Boever, Outreach & Recruiting Manager at Bright Global Futures, is passionate about understanding different cultures and helping others take advantage of globalization through their personal, professional and education life. With the world getting smaller every day, Zach believes it is critical to learn to work with those who are different from us as it gives us new opportunities to grow and not just survive but to THRIVE! Keep reading to learn more!
Every business has a story, tell us yours.
My partner, Ross Anderson, and I were both lucky enough to receive global educations before, during, and after high school and college. What I mean by this is we traveled and lived abroad for work, life, and education. We made so many incredible friends and connections. We realized that with accelerating global populations and movement of people, there were so many missed opportunities to connect for mutual benefit. We wanted to make globalization more of a win-win situation for people and organizations. We discovered that experiential learning adventures and systematic problem solving were the best way to do this.
To help people and organizations achieve their own vision for a "Bright Global Future", which is different for everyone, we've created an innovative process and experiential learning platform called the GPSx – Global Problem-Solving Xcelerater. Since 2016 we've been leading adventure experiences, internships, and consulting/coaching people and it has made a huge difference in their lives, their family's, and the organizations' they are associated with.
You were chosen as this month's Innovator Member. What does being an Innovator mean to you?
Innovating to us means involving all the key stakeholders, understanding their needs, and including their ideas to find and implement the solution.
No one likes to brag about their business, but if you HAD TO . . .
We work very well together, but do not always need to work face-to-face to be efficient. We use cloud-based collaboration tools to communicate and work remotely which allows us to be flexible and allow us to experience life, which is one of the core values of our company.
We learn from our mistakes, especially in business. Give us some words of wisdom.
In the startup world, many businesses fail, not because of poor ideas or implementation, they fail because they are more worried about equity than the business itself. Finding a platform that helps define a fair equity split (we use Slicing Pie), lets you and your team focus on the business rather than who potentially gets what and encourages everyone add measurable value to the business.
What "teacher" has made the most impact on your life and why?
I feel my solo travel experiences are the "teacher" that has made the biggest impact on my life. I've traveled around Beijing at the age of 16 during the Olympics, exploring China at 19, living in India at 21, exploring Thailand at 23, or taking a trip to Czech Republic and Austria at 25, just to name a few. Making those trips on my own have made an immeasurable impact on who I am, how I see the world, how I manage my stakeholders as well as help me grow a strong global network.
What might someone be surprised to know about you?
I was a mandarin interpreter for UnitedHealthcare and worked as a brewer at a craft brewery at the same time.
If you could have only one super power, what would it be and why?
To know every language. With language comes culture and a deeper understanding of why people think and act in ways different than you. As Bright Global Futures is a global company, it would make my job much more effective, especially with working with our diverse clientele and understand how to help them on a deeper level.
What's the most interesting thing you've read or seen this week?
My business partner recently sent me an article about Generation Z, a story of how they got to where they are today, and the way they are transforming the workforce. It is further proof of how what we've built can help bridge the gap between the new workforce and the one that is currently established.
WHO IS GENERATION Z? THIS TIMELINE REVEALS IT ALL - https://blog.ryan-jenkins.com/who-is-generation-z-this-timeline-reveals-it-all
Why do you choose to WORK AWESOME at OffiCenters?
Being able to work face to face when necessary, OffiCenters has given us a centralized location to do so for my team that lives in the greater metro area as well as meet up with clients in the area. Also, the staff and community are absolutely incredible.
In addition to our Member Directory, how else can people CONNECT with you?
I am always reachable by phone, 651-470-2305, or email, zach.boever@brightglobalfutures.com and I am usually at Union Plaza on Tuesdays.