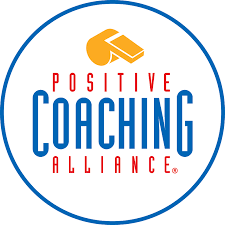 Positive Coaching Alliance's mission is to transform the youth sports culture where all youth and high school athletes have a positive, character-building experience that results in BETTER ATHLETES, BETTER PEOPLE. They bring the power of positive to youth sports through live workshops and online resources in partnership with local schools and youth sports organizations. Keep reading for more! 
Every business has a story, tell us yours.
Positive Coaching Alliance is a national non-profit that works to keep the positive impact in youth sports. The athletic world has become intense with high costs, long hours of practice, kids specializing in sports at a young age and PRESSURE from coaches and parents. The reality is that less than 2% of high school athletes will get a college scholarship and way less than that make it to a professional level. Positive Coaching Alliance strives to remind kids why they first signed up to play a sport. To keep kids playing the game and it's the perfect platform for character development and to keep life lessons (what healthy competition looks like, how to be a good teammate, etc.) So our organization conducts workshops for youth sports organizations, high schools, and colleges for coaches, athletes, parents and leaders to offer tools that will create a positive culture.
You were chosen as this month's Success Member. Tell us about your most recent Success.
On a professional level, we just received a sizable grant from the Timberwolves FastBreak Foundation and we were presented a check center court at the Nov. 4 Timberwolves game! #GoWolves! On a personal level, my son will receive his college degree in December and my daughter will receive her college degree in May! Now, that's success to me;)
No one likes to brag about their business, but if you HAD TO . . .
I have the BEST BOARD OF DIRECTORS EVER! How lucky am I to have 27 top business executives who are passionate about the culture of youth sports, including executives from all six Minnesota professional sports teams!
We learn from our mistakes, especially in business. Give us some words of wisdom.
My motto: Just keep doing the next right thing! I'm not perfect, and I will make mistakes but if I just stick to this simple motto, things work out!
Share the best advice you ever received.
Attach yourself to a mentor you really admire and respect. That person doesn't need to be in the same industry or profession, but someone that is interested in your success and can objectively offer you advice throughout your career. #Priceless (Shout-out to Patty Sagert!)
Describe your perfect day off.
A perfect day would start out early hitting the lake for some water skiing! And, I mean 7 a.m. before other boats are making waves, followed up by time in the hot tub, curling up with a good book and a fabulous dinner (which I did not cook).
What might someone be surprised to know about you?
I am not short. I love Boston Terriers.
Together we are stronger. Tell us something you like about being our member.
I love OffiCenters, which is evident in the fact that I've been a resident at three locations with different organizations (Union Plaza, Park and International)! I love the staff, the amenities and flexibility of space sizes and locations! I love being around other business people and OffiCenters has great networking opportunities; it's simply top-notch!
If you could work anywhere under the sun, where would you choose?
Wherever home is . . . my happy place!
How can people CONNECT with you?
Amy_sinclair@positivecoach.org